A Cowboy for All Seasons is an anthology by Caitlin Crews, Nicole Helm, Maisey Yates and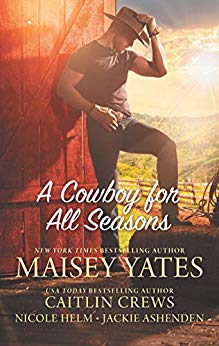 Jackie Ashenden. It's four romances starring four different cousins who each spend a season in their grandmother's home in Jasper Creek, Oregon. She's recently passed away and each granddaughter has received a letter written to them before she died with an invitation to spend a season in her home. For the women it's bittersweet to be at Grandma June's house without her, but their Grandma had some tricks up her sleeve to make sure they would find partners so that they wouldn't be left alone for long. It will also give the cousins a chance to reconnect.

Spring by Caitlin Crews is a second chance romance for Keira. She'd left the small town and her boyfriend Remy behind several years before. But she'd never gotten over Remy, and she knows she hurt him deeply. Grandma June has left Remy in charge of her cattle and that means Keira is going to see him on a daily basis while she's living in the house. Seeing each other again brings up good memories and bad, and their initial stiff and awkward conversations soon lead to the rekindling of their friendship and more. Their attraction to each other is still strong leading to sexy scenes, but it takes courage for Remy to forgive Keira and for them both to trust each other again. It's an excellent start to the anthology.

Summer by Nicole Helm is a lovely, heartwarming single parent romance. It's JJ's turn to stay in Grandma June's house, and as Grandma June had planned to take care of single father Cade's girls she's asked JJ in her letter to take her place. JJ shares a unique and difficult bond with the girls. Their mother left them 'to find herself' and JJ's mother abandoned her too. This gives her an empathetic hand in knowing how the girls might be feeling and understanding how they might act out. Cade wants to return the favor of her watching the girls by doing odd jobs at the house at night, leading to a friendship between him and JJ and then the succumbing to attraction between them. But Cade is wary of opening up too much to a woman who is only going to be around for the summer. They have to both be willing to take a chance to get their happy ending. This story also delves into JJ and her sister Lila's estranged relationship, and with JJ's newfound happiness comes the hope that they too can reconcile.

Fall by Maisey Yates is Lila's story and one of unrequited love. As a teenager Lila had confessed her love to the older Everett on the eve of his engagement, only to be kindly rebuffed. Mortified, Lila had made sure to avoid Everett for years later. But since that time Everett has married and divorced and now he's single. He's also hosting the Red Sled Holiday Bazaar at his ranch, an event that Grandma June would have been planning with him that now falls to Lila. Everett barely remembers the event that Lila has felt humiliation over for so long but he can see that she's become a beautiful woman. And one he is definitely interested in. Working together develops their friendship and Lila finally gets to find out what a kiss from Everett feels like – and it's oh so good. Some sexy scenes ensue as they make the plans for the bazaar and when her time in Grandma June's house is up Lila decides that she's staying – even if Everett isn't sure that he's ready for more. He almost misses his chance at a happy ending but makes up for it before it's too late. Lila and JJ's sibling relationship is part of this story and it was lovely to see them find a way to open up to each other and become real sisters again.

Winter by Jackie Ashenden is the last of the quartet and the story of Bella, a girl who spent only a short period of time with her Grandma June but was never forgotten. Bella's mother Avery was estranged from her mother and they never came back after she was thirteen and when Avery was briefly involved with a local man. For a short time Bella was a step-sister to then 19 year old Noah but they'd never even had a chance for a friendship before Avery had left Noah's father and they'd left town. Bella is a reminder of a hard time for Noah, when his father drank himself to death after Bella's mother left him. But Noah is Bella's neighbor now and he knows Grandma June would want him to help her if she needed it – and she does. They get a chance to have that friendship now, except that the attraction between them is new and exciting and leads to a sexy affair. Bella is torn between what she could have here and her old life back in Seattle. Her cousins Keira, JJ and Lila are happy to see her again after all these years and the warmth of family and their friendship is something she's been missing for so long that it's not hard to think about staying – especially if Noah is willing to open his heart to her. Their happy ending is sweet and satisfying.

All four stories have emotional moments as the women are dealing with their grief over the loss of Grandma June and they have their own baggage to contend with. There were several moments that brought me to tears as they struggled to come to terms with their lives past and present. They each experience character growth as they find the men in their lives who will support them. The authors did a great job with the continuity of the series and making the reader feel that they really know these women and their new partners. I highly recommend this anthology and hope to see the authors work together again.

Book Info:

Publication: Feb 25, 2020 | Harlequin |
Discover the power of family in this uplifting quartet by New York Times bestselling author Maisey Yates, USA TODAY bestselling author Caitlin Crews, Nicole Helm and Jackie Ashenden.
June Gable left each of her four granddaughters a handwritten bequest—to spend a season at her beloved farmhouse in Jasper Creek, Oregon, before they sell it. These cousins were once as close as sisters, but time and family betrayals have pushed them apart…
In spring, polished city girl Keira must find her country roots—and reconnect with an old flame. In the summer, tough tomboy JJ needs to tap into her softer side helping a single dad and his daughters. Cheerful dreamer Lila has to help coordinate the town craft fair in autumn, under the stern eye of the handsome cowboy she loved as a girl. And as winter falls, headstrong, independent Bella must learn to ask for help from the one man she believes she can never have.
The four cousins will have to confront secrets from the past, deal with old wounds they'd rather hide, and tangle with their hardheaded cowboys before they can find love, healing and the true meaning of family…