In The Somerset Girls: A Novel by Lori Foster, Sisters Autumn and Ember Somerset might be polar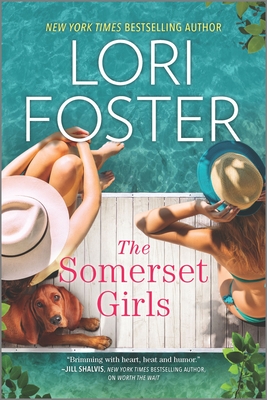 opposites in personality but they somehow make working together–and living under one roof–work. It doesn't hurt that they both have a deep love and respect for their family's rescue farm that they run in addition to their own careers. Autumn will admit that she's the bleeding heart, first to show up when an animal is in need. Or when her family needs her. Although it would be nice to have that care reciprocated, she's not sure it's in the cards after her devastating break up a while back. Then a guy Autumn had a crush on in high school reappears in town with his young daughter. Tash and Sadie–with the help of her sister Ember–quickly work their way into Autumn's daily life. And it doesn't take long for her to realize what they have together is worth risking her heart again. If Tash and Sadie will take that leap with her.
'How did she articulate all the ways he made her happy, how he buoyed her spirits? With Tash, she wasn't just living anymore. Now she took pure pleasure in every moment.'
Coexisting with her sister Autumn, their lovable hound dog Pavlov, and various rescued farm critters suits Ember fine for now. She's got a busy career and a happening social life that keeps her mind occupied so it doesn't stray to what happened about a year ago. Ember also tries to pay no mind to the attraction she's felt from day one for Mike, their farm hand who lives in the loft on the property. Easy on the eyes and flirtatious as the Kentucky day is long, he has a tendency to baffle Ember. She can usually tell when a guy's into her. But with Mike…she has no clue if he just likes to get her riled up or if it's his way of wooing her. As she tries to help nudge her sister Autumn into taking a chance on romance with hot single dad Tash, Ember wonders if she should heed her own advice and take the plunge, admitting to her feelings for Mike.
He stared into her eyes, maybe into her soul, showing her everything he felt…and thrilling her in the process. "I've spent enough long nights alone thinking of you to know I'd rather spend those nights with you."
Be still, my heart. "Can we start tonight?"
The Somerset Girls is, simply put, amazing. Lori Foster combined the feel of women's fiction and contemporary romance to make this a touching novel that is definitely keeper shelf material.
'Ember's hand covered Autumn's on her knee, and they laced their fingers together.
Sisters, always there for each other, sometimes arguing, other times–like now–being so damn supportive it made his eyes burn.'
Being a long-time fan of Lori Foster's work, I was more than ready for a new story of hers to lose myself in. And from page one I was hooked. Autumn and Ember had the quintessential sisterly bond we all probably think of, but with some fun twists. They bickered a little bit and teased each other like you'd expect. Of course they also had each other's backs when it came time to stand up for their sibling. But it was watching Ember and Autumn have such a tight working relationship when it came to the family animal rescue, watching them totally in sync about the safety and well being of the rescues, that melted my heart. How could it not? Those farm critters were a source of delight, laughter, and even some tears over what brought them to be rescued in the first place. But what a lovely backdrop the farm was for this book.
We also had the bonus of both Autumn *and* Ember finding love unexpectedly. In Autumn's case it was the guy she crushed on in high school, Tash, coming back to town years later with his precocious seven-year-old daughter Sadie in tow. The father/daughter duo will pull at your heartstrings, for sure. Sadie alone was absolutely darling and had me shedding a few tears with what her mother put her through. Add in Tash, a loving, sweetheart of a newly single dad and there's just no way readers won't fall for them both. I loved him with Autumn as well. Tash was quite an intuitive guy and always seemed to know what she needed, how to boost her struggling self-esteem after her last disastrous relationship. Autumn's instant bond with Sadie only helped her connection grow with Tash, too, which was a joy to watch.
Ember and Mike's romance surprised me in the best of ways. Without giving too many details away, they both had things in their pasts they had overcome that pushed them to act as if everything was wonderful on the outside, while hurting on the inside. Mike and Ember were rather outspoken individuals so it led to some comical, slightly antagonistic bickering that was flirty and had me cracking up. Once their secrets came out, I thought things did move along at a fast clip with them, but then again, that was their style anyway. Seeing Ember and Mike also help Autumn and Tash move forward in their courtship was just so darn sweet that it made me like them even more. What a team!
A story about complicated family dynamics, navigating relationships, the strong bond between sisters, and the many ways you can show love to those you care about, The Somerset Girls will hold a special place in my heart for years to come.
Book Info:

Publication: Published May 19th 2020 | HQN Books |
No one knows you quite like a sister…
When they're running the animal-rescue farm they inherited from their grandparents, Autumn and Ember Somerset are perfectly in sync. At all other times, not so much. Dependable Autumn would rather curl up with a good book than paint the town red with Ember. After the disaster that was Autumn's last relationship, it's pure self-protection. But when her high school crush comes back to town with his adorable young daughter, igniting memories best left forgotten, there's only one person Autumn can turn to…
Beneath Ember's free-spirited facade is a layer of deep hurt. She'll gladly nudge Autumn toward a second chance. But risk her own heart? Not likely. The closer Autumn gets to her own happily-ever-after, the more Ember wonders what she might be missing—and if it isn't her time to be bold, too.
Summer in Sunset, Kentucky, means long, hot days—and sometimes surprising new beginnings. Through it all, the ties of sisterhood will be there, guiding Autumn and Ember to the lives, and loves, they need…