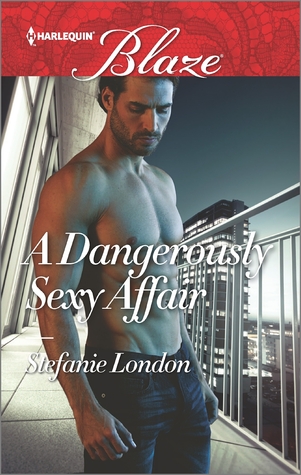 A Dangerously Sexy Affair by Stefanie London: After a past boyfriend did her wrong, Quinn has some major trust issues, but when the chemistry rides high stranger Aiden at a gamer convention, Quinn decides to give in and give herself a night of pleasure with a man she'll never see again.
Except, it turns out Aiden is her new boss, for the same position she interviewed for and desperately wants.
When Aiden and Quinn are forced to work together to uncover a leak at a gaming company, they keep in close contact. And even as they know they shouldn't, they get closer and closer as they learn to trust.
"Yes," she said, her breath stuttering in and out. "My answer is yes."
"I didn't ask anything." The corner of his mouth quirked up.
"Your kiss did…"
A fun and quick read, A Dangerously Sexy Affair is exactly what it says it is, a sexy affair. Quinn and Aiden are hot for another and no matter how much they know they shouldn't, they can't resist the sparks of attraction.
I loved how much we delved into their characters and saw as Quinn began to trust again. Plus, you just got to love the pair who do not at all want to work together forced to work together. It creates all sorts of delicious tension. However, a little stilted at times, some storylines, such as Aiden with his father, ended not so satisfactory. But thankfully the romance definitely had a satisfying conclusion.
Another bonus, it's an interesting setting with females in the gamer world. If you're interested in a fun and sexy read going undercover, I highly recommend London's A Dangerously Sexy Affair.
Book Info:

 March 22, 2016 | Harlequin | The Dangerous Bachelors Club #2
Ready, player one…
Quinn Dellinger is supposed to be having fun at an industry party for gamers. Instead, all she can think about is the promotion she just got passed over for at her security firm. Then she spots him. Tall? Check. Dark? Check. Dangerously sexy? Check. Hell, yes—this is the guy who'll help her forget all her worries and give her one wickedly naughty night.
The next morning she discovers her one-night stand was the guy who took her job. Oh, hell no. But Aiden Odell is not just a security specialist, he's ex-FBI, and Quinn is expected to work with him—very closely—on a major assignment. He may be tall, dark and dangerously sexy, but this is one game Quinn is determined to win…