In This One Moment (Pushing Limits #1) by Stina Lindenblatt, Nolan Kincaid never planned to return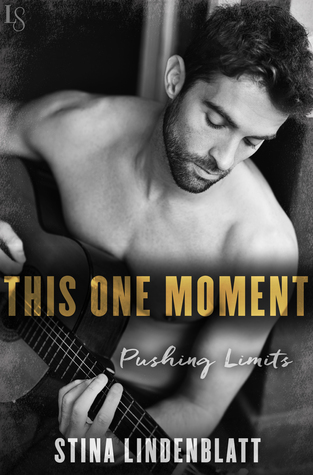 to his hometown when he left five years ago. There are too many bad memories that he'd rather not have to relive. But when he receives a harrowing phone call informing him that his best friend, Hailey Wilkins, is in a coma, there's no way he won't race home to be by her side. How could he not? He's been in love with her forever, and realizes now may be the right time to finally admit his feelings.
"The fingers stroking my hand moved to my face, and a thumb brushed against my cheek. "Hey, Forget-Me-Not. Am I gonna have to kiss you like the prince kissed Sleeping Beauty?"
Hailey can't believe her best friend, Nolan, has rushed to be at her bedside. They haven't spoken in five years, so it's a wonder he still remembers she exists. Especially considering his career as a rock star has him mingling with some of the most gorgeous women in the music and film industry, and dating one in particular. However, Nolan's sudden appearance in her life isn't the only thing she has to worry about. It seems she's can't recollect the days leading up to her brutal assault.
Although this book was slow to get started, and it took me a little while to warm up to the hero, I really liked this story. It was fast paced and a really captivating best friends to lovers book that I can guarantee I will read again. Not only because of the challenges this couple faces such as Hailey's bitterness towards Nolan not staying in touch when he left town and the paparazzi causing problems for them; but because of the suspense surrounding Hailey's attack. Will she remember what happened? Will the person responsible come after her again? Will Nolan be able to keep her safe?
As for the dialogue, I really enjoyed the moments between Nolan and Hailey. At first, she's wary of Nolan being back. Why would he drop everything to rush to her bedside when they haven't talked in years? However, as the story progresses, I liked how it seemed they'd never been apart. That they're as close as they were five years ago, and Nolan's still the kind and caring friend Hailey remembers him to be. Yet, the dialogue is also intense as Nolan faces his harrowing past and the mystery behind the assault on Hailey.
"As much as I wish I could be Nolan," he murmured in my hair, "that's not who I am anymore."
"You're wrong," I said, my head still on his shoulder, his scent of lemons and sunshine soothing me. "It's exactly who you are. Even if the rest of the world doesn't realize it yet."
I really liked both characters. Nolan and Hailey are very good friends, and would do anything for each other, as evidenced by the way they interact with each other and relive moments that were important to them growing up including their competitiveness. Then there's also Hailey helping Nolan to deal with his past and the hero being so protective of Hailey.
Hailey is strong, feisty and loyal. There was so much to like about her, as she struggles to deal with what happened; the fact that she can't remember the assault on her while dealing with Nolan's re-appearance in her life. She gives Nolan a hard time when they first come face-to-face again, because it's hard to believe he's there to see her when he couldn't be bothered remaining in contact with her since he left town. Yet, she's realizes there's room for forgiveness, especially since they're both in love with each other, but afraid to face their feelings for fear of rejection. But what I liked most about her was her determination to stay strong and not hide, since she needs to discover what happened that caused her to end up in the hospital.
While Nolan, he was engrossing. His life hasn't been easy, especially since he lost his family and has some sort of survivor's guilt, believing he could have stopped what happened to his mother and sister. Yet, his love for music and the fact that he followed his dreams kept him going. As did his love for Hailey, even though he'd never told her how he felt. Also, his determination to keep Hailey safe proves that she'll always come first to him, and that's what I liked most about the hero. Because she needed a man that cared about her, willing to put her first; even when she was doing to her best to discourage him.
As the story bounces back and forth between the present and the past, their growing relationship reveals how close Nolan and Hailey were and still are; illustrating their love for each other perfectly through some nicely-detailed sex scenes. Both haven't had the best of luck when it comes to relationships, and it's clear why because they're a couple meant to be, despite the obstacles they face. Their strong chemistry is there from the moment they come face-to-face, and continues to grow, as Nolan fights for Hailey to forgive him. Then again, how could she not forgive him with the nickname he calls her?
Overall, this was a well-written story that kept me entertained from start to finish through the main characters back stories, everything the couple go through to be together, and the secondary characters that weren't afraid to offer their advice. The story ended well with Hailey tricking Noah's friends, which made me laugh and this couple getting their happy ever after, especially after all Hailey goes through to discover the truth about why she was assaulted. I would recommend This One Moment by Stina Lindenblatt, especially if you enjoy the friends to lovers or second chance romance tropes.
Book Info:

Publication: April 5th, 2016 | Loveswept | Pushing Limits #1
Fame, fortune, and stadiums full of screaming fans are right around the corner for the rock band at the heart of Stina Lindenblatt's steamy, intense Pushing Limits series. But it's an epic love affair that steals the show in this opening act.
When Nolan Kincaid skipped town to chase the music career of his dreams, he knew he wouldn't miss the reminders of his broken family—he wasn't so sure he could forget the girl he left behind. Now his band is touring nonstop, the recording sessions go all night, and the groupies are crazed. But when he hears that Hailey Wilkins is in trouble, he drops everything.
Hailey thought she'd missed her chance with Nolan. Five years ago, the moment she realized she loved him was the moment he decided to leave. Now, when a brutal assault lands her in the ICU, Nolan flies straight to her bedside, acting like nothing's changed. What's a rock star like him doing, canceling shows and risking his record deal, just to nurse an old friend back to health? And why should Hailey believe he'll stay this time?
With her attacker still at large, Nolan's ready to rise to the occasion. He knows he let Hailey down once before, but he's ready to give her everything, heart and soul—and he'll fight for the chance to prove it.