Dangerously Sexy Secret by Stefanie London: What had sent her best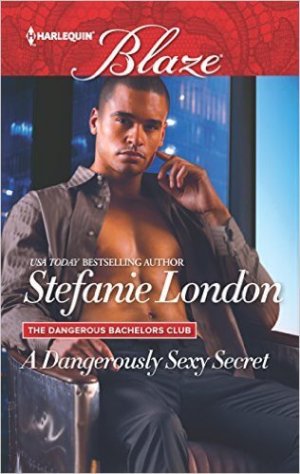 friend scrambling back to their small town? Who had destroyed her hopes and dreams?
Wren Livingston didn't know what caused her best friend to come home or who had worked her over, but what she did know was that she was going to find out and she would take care of them come hell or high water. Wren may not have a lot of motivation in life, but she needed a purpose, especially now with her ex being one of the world's biggest douche bags and her best friend hurt. She was going to make the world a better place and she was going to start now.
Rhys Glover was a by the book kind of a guy. He knew there was black and there was white and when you were somewhere in between you were no where and to some you were nothing. He was going to be perfect though, then he would be seen, be noticed and finally be someone.
When Wren walked into his life though he hadn't realized just how messy life could be or how much he would like it. The bigger question was how much could he take before it became too much.
This was a surprise success. Going into this novel sexy was expected and it delivered more than promised. It also delivered a twisting delightful plot that keeps the reader enthralled from beginning to end. It is not always pretty and does touch on a pretty dirty, deep and depressing subject but when the light shines through it shines so brightly that is proves there is light at the end of the tunnel. This is one of those stories that you will keep returning to over and over for your feel good as well as for your hot and sweaty.
Book Info:

Expected publication: September 20th 2016 | Harlequin Blaze | The Dangerous Bachelors Club #3
Coming soon! A Dangerously Sexy Secret by Stefanie London will be available Sep 20, 2016.