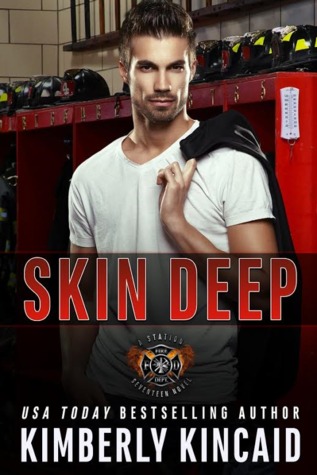 Skin Deep (Station Seventeen #1) by Kimberly Kincaid is an amazing start to what is going to be a excellent series. This book has everything HOT firemen, HOT romance, and suspense that kept me glued to my seat from the first page to the last. This is the amazing story of Kellan and Isabella.
Kellan Walker is a former soldier, current fireman who is trying to outrun the nightmares of his past. Always moving, always keeping a level head because to loose it in his profession could spell disaster. When he finds some very disturbing photos, he never expected to that the detective in charge would be the one person that he wished he would not see anytime soon, the woman that almost got his sister killed, the strong, sexy, hard headed Isabella Moreno.
Isabella Moreno has never backed down from a challenging case. She has always been an advocate for women in trouble, always trying to save women from abuse. Carrying around the guilt that she was unable to save her little cousin, the cousin who was like a sister to her, from the assault and murder that took her from the family, Isabella is determined to make sure that she saves as many victims as possible.
When her captain will not turn over the photos of the abused women found in the fire, or force the FBI to open an investigation into the women whereabouts, Isabella decides to go out on her own to gather information. What she does not expect is Kellan to step up and demand that he be her backup. When two informants are murdered, and Kellan goes missing, Isabella will need to trust her team and trust herself to have his back and get him back.
What I really loved about these two characters is that they really did have each others backs. Kellan refused to allow Isabella to take on this investigation on her own, wanting to make sure that she was safe and protected. Isabella was a surprise to me. She is tough as nails and nothing really shakes her, other than the memories of her cousin, she is cool, calm and collected most of the time. When the chips are down, she proves that she actually did hear Kellan and that she truly had his back.
The chemistry between these two was white hot and WOW! I really am looking forward to see which couple gets the next book. Amazing suspense with a great HEA.

Book Info:

 Expected publication: September 20th 2016 | Kimberly Kincaid Romance | Station Seventeen #1
Where there's smoke…
For firefighter Kellan Walker, checking his emotions at the door doesn't just keep him on the level. It keeps him alive. A gut-wrenching find at the scene of a blaze threatens to blow his ironclad composure, but when the detective assigned to the case is the same woman who put his sister's life at risk three months ago, all bets for Kellan being calm, cool, or collected are definitely off.
There's bound to be fire…
Keeping people safe is Isabella Moreno's number one priority, no matter how tough the case. Working without solid leads and with the gorgeous, broody firefighter who believes she's responsible for endangering his sister on a previous case isn't ideal. But someone is hurting women in the here-and-now. Isabella will do whatever it takes to find justice.
As Kellan and Isabella reluctantly team up to catch a criminal, they realize they have more in common than they'd ever imagined. With every move, the stakes grow higher and the passion sizzles hotter, but can they race against the clock and the odds to catch a killer? Or will they lose their hearts—and their lives?