In A Dash of Christmas by Samantha Chase, Emery Monaghan's fiancé has become her ex when a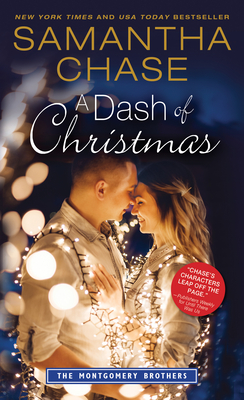 scandal breaks out. Looking to get away from the media attention, she takes Eliza Montgomery up on her offer to stay at the Montgomery family's New York apartment and work on Eliza's Christmas cookbook. What she doesn't count on is chef Carter Montgomery showing up at the apartment. He's currently struggling with the concept for his new restaurant and decided to stay at the family residence for a few days. Only Eliza has tricked them both, and the life-long rivals are stuck together working on the Christmas cookbook. Will Eliza's matchmaking scheme work yet again?
Emery and Carter have always been competitive, always trying to one-up the other. The truth was neither one of them wanted to admit their attraction to one another, so they took it out in other ways. Being forced to work together not only brings their attraction to light, but makes them realize that they really aren't that bad. Carter can dish out the taunts, but Emery stands her ground and gives them right back. I admired the way she held her head up despite what was going with her ex. I also felt for her when it was clear her parents were going to side with her ex, despite all the terrible things he was being accused of. I would have liked to have seen more of a resolution with her parents. It would have been nice to have at least seen an apology.
I felt for Carter as well. He's struggling with the concept for his new restaurant. In a way, he's still trying come up with something his father might approve of, even though the man was deceased. He struggles between doing what his father may have approved of versus what was in his heart. He also felt like his father had never approved of his career, so I was glad when Eliza sat him down and really gave him a glimpse of his father's thoughts.
For readers who have read through The Montgomery Brothers series, you'll enjoy the family newsletters that were sent out at Christmas. There's one for each branch of the Montgomery's, and it nicely sums up what has been happening with each family. I thought it was a great addition and a way to catch up with the comings and goings of all the characters I've previously read about.
Readers who enjoy enemies-to-lovers romances will enjoy A Dash of Christmas. There's a nice blend of humor, drama, and, of course, holiday spirit.
Book Info:

Publication: September 24, 2019 | Sourcebooks Casablanca | The Montgomery Brothers #9
With a dash of Christmas magic…
Two people who have spent most of their lives being rivals…
Learn a little something about following their hearts…
Carter Montgomery broke the family mold when he went to culinary school. Now a successful restauranteur, he's at a crossroads: should he continue on his successful path or look for a new challenge? What he needs is time alone to think things through. But his matchmaking family has other ideas…
Emery Monaghan's no-good fiancé has embroiled her in scandal and she needs a way out. When mentor Eliza Montgomery offers her a refuge, she's relieved―until she realizes that the deal means rubbing elbows with Eliza's son Carter―Emery's childhood nemesis.