In My Pen is Huge (OHellNo #5) by Mimi Jean Pamfiloff , Gisselle Walters is looking for a way to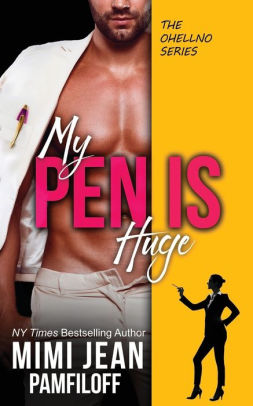 jump start her journalism career. Working as an intern for Leland Merrick–a world-renowned journalist with some crazy-cool stories under his belt–seems to be her best option. It's too bad that when Gisselle meets the sexy Brit, she finds out he might have tons of good looks and charm, but he's also, well, a chauvinistic pig. When Merrick calls her "love" one too many times, not giving her a fair shake because of her gender, she declares war. Gisselle knows she can best him and find out not only what story Merrick is getting ready to break, but she'll also figure out if there's more to his hunt for the truth than meets the eye.
'He's dangerous, dedicated, and a rule breaker. He's like Clark Kent meets Daredevil. Also, he's not so hard on the eyes.'
Merrick has never been so tempted by a woman as he is by Gisselle. But with her do-good ways and her staunch views on right and wrong, he doesn't think she would ever make it in his world. Because, even though he's created a name for himself the world over for his sometimes shocking, sometimes heartwarming stories, there's a lot that goes on behind the scenes that Merrick's readers never get to see. Most of it dangerous. And as he watches the lovely Gisselle hot on the trail of a murderer on the loose, he's going to do his bloody best to keep her from getting harmed. Even if it means putting himself in danger. But while Merrick is used to life on the edge, he's not sure his Texas beauty is ready for the challenge.
'If there was ever a woman I wanted to be honest with, it's Gisselle. But she doesn't understand what I'm really involved in.'
My Pen is Huge. Just the title alone can get a girl giggling. But the story, with its enemies-to-lovers theme, some thrilling intrigue, and those plot twists Mimi Jean Pamfiloff is known for, was as captivating as it was full of sass and charm.
'I'd planned to perform a three-hour monologue for Merrick, exploring each and every facet of my hatred, entitled Oh, How I Hate Thee and Thy Huge Pen.'
It's no surprise that I had a blast reading My Pen is Huge because, well, Mimi Jean Pamfiloff. Her brand of hilarity *always* amuses. And this particular series, OHellNo, has been all about the enemies-to-lovers trope–which, I must say, MJP has done a superb job of keeping each couple's story unique. The characters do overlap but you can read the books as standalones. Although, if you have read The Battle of the Bulge, then you'll already have met Merrick and Gisselle and seen one of the big scenes through Mitch and Abi's eyes, so this will be fun to see it from a different perspective.
Gisselle and Merrick had so much to like about them that even though I spent part of the time reading this wondering why they couldn't just get along! (lol), it was SO much fun watching them butt heads. And the witty, oftentimes hilarious, dialogue? Classic MJP. Merrick was very James Bondish: yummy British accent, charismatic, calm and collected…but he had a surprising background that explained a lot about why he came across as chauvinistic. Gisselle, she was a tenacious do-gooder who was always rushing headlong into trouble without thinking of the possible consequences first–much to Merrick's chagrin. She saw things very cut and dry whereas he didn't just dabble in the gray areas, he planted himself right in the middle of that murkiness. But it all made for some awesome tension between Merrick and Gisselle.
If you're looking for a RomCom that will make you laugh as you travel the globe along with our quarreling lovebirds, then My Pen is Huge will undoubtedly be just the book for you.
Book Info:

Publication: Published September 26th 2019 | Paper & Silver, Inc | OHellNo #5
From New York Times bestseller Mimi Jean Pamfiloff comes MY PEN IS HUGE, a Standalone Romantic Comedy.
Dear Mr. Merrick,
I quit.
And since you're obsessed with your stupid pen collection, I thought it appropriate to take the big one you love so much and write my resignation letter. Kiss your pen goodbye, big man!
Because when I agreed to work for you—a hotshot journalist I've admired for years—no one told me that you had a secret life and that you'd bug my apartment, have someone killed, and make the moves on me just to test whether I'm serious about this job.
I mean, come on! What kind of boss does that? Yes, you're ten degrees hotter than the sun, and you melt panties everywhere you go, but this "little intern" is done with your games.
From this day forward, consider me your mortal enemy, your biggest threat. Maybe your pen is huge, but my determination is bigger. See you on the battlefield, Mr. Big Pen.
Your ex-admirer,
Gisselle Walters