In A Deal for her Innocence by Cathy Williams, Ellie Wilson is determined to land the advertising job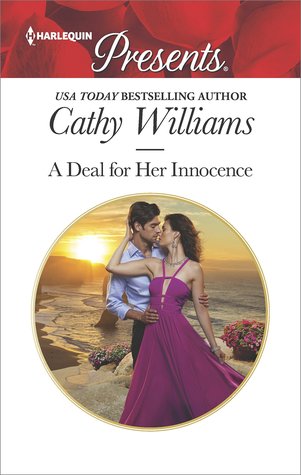 Niccolo Rossi is looking to give in order to promote his newest venture – a private island resort where the rich can hopefully finding love and happiness. However, being the cynic that she is, Ellie doesn't know whether she'll be able to give Niccolo what he wants. Yet, for some reason, Niccolo wants Ellie and the only way to make certain she can give him what he wants to promote his newest venture is to offer her the chance to see the resort for herself under the guise of being his girlfriend. But the more time Ellie spends with Niccolo, the more she finds herself giving into temptation and doing the one thing she knows she shouldn't. Will Ellie be able to show Niccolo that love and happiness are worth fighting for, or will she end up with a broken heart?
"I never signed up to this when I came here!" she cried.
"The mark of true creativity is an ability to think on one's feet."
"I'm thinking that this is a ridiculous situation!"
"What are you so afraid of?"
I really liked this story right from the beginning, but it was from the moment the hero and heroine met that had me smiling and amused, as Ellie is unprepared for what Niccolo puts her through. Talk about trying to keep her mind on the business at hand when he's all sweaty and in need of a shower. Will he embarrass her even more? However, the story keeps getting better, as Ellie does her best to resist Niccolo while the hero does his best to tempt the heroine to change her mind on relationships and intimate encounters. Can Ellie separate sex from falling in love?
Both the main characters had interesting back stories, as Ellie has always craved stability, which is understandable, because her parents haven't been the most responsible of people and I could also understand why she doesn't want to turn out like them. Really, she's independent; hard-working; determined to fight for the chance Niccolo is giving her, despite her reservations and the fact that he's making her take several steps out of her comfort zone; and I liked that she gave the hero a chance, even though she knows giving in to their intense chemistry could blow up in her face badly. While the hero, being rich means he can't let his guard down when it comes to women and whether they're after him for his money or whether they want him for him. Yet, in saying that, he knows Ellie is different. For starters, the fact that she can resist his charm and his all-round yumminess speaks volumes. Will the hero be able to win Ellie over? Will she give into temptation?
"On the other hand," he mused easily, "It would probably be just what might be expected."
"That the naïve English woman would venture out without her sun block and end up resembling a lobster?"
"That the sexy English woman would end up in bed for a week enjoying the ministrations of her man."
Overall, Ms. Williams has delivered a really good read in this book where the ending had me sympathizing with Ellie because of how things go awry between her and Niccolo, but I loved how everything worked out for this couple. Niccolo's words to Ellie are precious and prove that he can't live without her in his life, which is something he never thought possible. I would recommend A Deal for her Innocence by Cathy Williams, if you enjoy the mysterious strangers trope or books by authors Lynne Graham, Kate Walker, Jennifer Hayward and Clare Connelly.

Book Info:

Publication: February 20th, 2018 | Harlequin Presents |
" This is crazy! You're my client!" But can Ellie ignore Niccolo's scandalous suggestion? Straitlaced Ellie Wilson has eyes only for her job…until she meets outrageously gorgeous Niccolo Rossi, and is persuaded to step out of her comfort zone! When they jet off to his deluxe Caribbean resort, Ellie's advertising pitch suddenly involves her playing girlfriend to his notorious playboy. But soon seduction may be the only item on Niccolo's agenda..