In A Desperate Fortune by Susanna Kearsley, Being unemployed actually works in Sara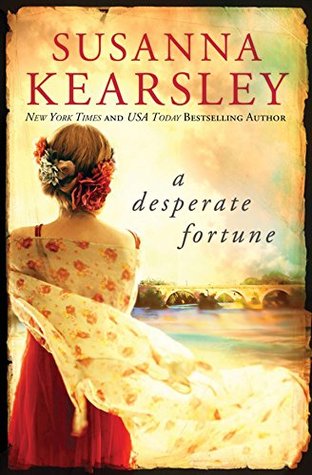 Thomas's favor when she's asked to decode an almost three hundred year old journal written in a puzzling cipher. As Sara begins to unravel the secrets in the journal written by Mary Dundas, she finds an exciting story of deceit, suspense and love.
'In all her years she'd yearned for an adventure, she had not dreamed that when one finally did arrive, she'd find herself so ill equipped to meet it.'
Mary had been left with relatives as a child while her Scottish father and brothers followed the King to Rome as some Jacobites did at the time. But Mary's story really begins in 1732 when she herself travels with a group of exiles, including a brooding man who should scare her, but she is drawn to, nonetheless. Sara spends her days reliving the past while finding her own life in upheaval as she contemplates what is next for her and if it's safe to follow the path her heart is trying to choose for her.
'I knew it wasn't logical for me to feel such pride in the resilience of a woman I would never meet, but I was growing close to Mary through her words and so I felt it anyway.'
A Desperate Fortune is an epic journey that pits historical times against modern, all while exploring the lives of two women who are on a path of self-discovery, and who also happen to find love while they're at it.
Wow. This story goes well beyond just your average, every day women's fiction. There was so much detail and thought put into every scene, whether it was the modern story of Sara, or the historical part with Mary. Now, this was not a quick read. It weighs in at over five hundred pages. But for those readers who love both historical and contemporary novels, this was a perfect blend of the two and (I thought) it was well worth the time commitment.
I think what I enjoyed most, aside from the terrific storytelling of course, was how author Susanna Kearsley was able to somehow point out the similarities of Mary and Sara's lives. Even though they were born nearly three hundred years apart! They both felt like outcasts, Mary because of her father and brothers leaving her behind as a child, and Sara due to her Asperger's. So it felt genuine that as Sara was decoding Mary's journal she would feel a kinship with her.
It was interesting that both Mary and Sara also wanted a steady, dependable man in their lives that they could love and make a stable future with, but thought it was out of their reach. Thankfully the ending proved they were worthy of it after all. And I thought the men they fell for, even though they were quite different in some ways, were both very protective and equally adored their women. There was a quiet strength in MacPherson and Luc that helped Mary and Sara, respectively, become the best self they possibly could and overcome their struggles.
A Desperate Fortune was like getting two incredible books in one. With dual HEA's that had me choked up with emotion, and an intriguing journey through Europe in 1732, I think this novel is destined to become a favorite for many readers.
Book Info:

Published April 7th 2015 by Sourcebooks Landmark
The highly anticipated, brand-new timeslip romance from New York Times bestselling author Susanna Kearsley
For nearly 300 years, the mysterious journal of Jacobite exile Mary Dundas has lain unread-its secrets safe from prying eyes. Now, amateur codebreaker Sara Thomas has been hired by a once-famous historian to crack the journal's cipher.
But when she arrives in Paris, Sara finds herself besieged by complications from all sides: the journal's reclusive owner, her charming Parisian neighbor, and Mary, whose journal doesn't hold the secrets Sara expects. As Mary's tale grows more and more dire, Sara, too, must carefully choose which turning to take… to find the road that will lead her safely home.