A Diamond for My Forbidden Bride by Jackie Ashenden is, as always from this author, packed with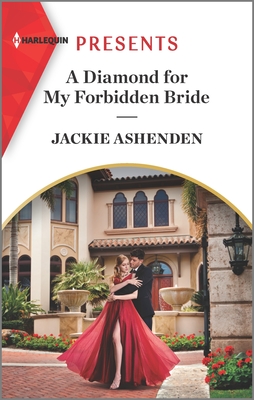 adventure, drama, passion and page turning intrigue that I was thoroughly captured by.
I love a good rise from the dead when the love of your life is about to marry your evil twin brother troupe! It's right up there for me and Jackie Ashenden delivered 100% on the drama. The first person narrative added to the drama and the pace and while it's not my preference for Presents, when it's done well it's fabulous. A Diamond for My Forbidden Bride was done extremely well.
The adventure of Val's return. The kidnapping in the dark. The whisking away to a beautiful location. The smug hero becoming undone when the heroine doesn't play along. The building back of their relationship. The filling in the gaps in history. The pain of thinking your love was dead for 15 years. The trying to get back in touch with your twin brother and he ignores you. The way everything connected and the lasting feel of being curious, where the heck is the evil brother… is he even evil? What do you mean i need to wait for the next instalment????
The intrigue of Valentin's brother (book 2) is perfect, I can not wait to find out where he has disappeared to during the drama. I'm also excited to see how Jackie Ashenden redeems him.
Well enjoyed, thoroughly exciting page turner and filled with lashings of drama, excitement, the best alpha hero that Jackie Ashenden's a master at creating and worth 5 stars to me. Highly recommended!
Book Info:

Publication: June 2022 | Harlequin Presents | Rival Billionaire Tycoons #1
For the last fifteen years, everyone thought I, Valentin Silvera, was dead. But I'd faked my death to escape my abusive father. Now I've returned to take what's mine, including diamond heiress Olivia Wintergreen—my childhood sweetheart and heartless twin brother's fiancée!
Olivia isn't the wild girl I remember. She's poised, controlled and not afraid to challenge me! My plan to wed her never included our once-youthful connection growing into an uncontrollable fire. But with a heart as dark as mine, can I offer her what she truly deserves?
Book 1: A Diamond for My Forbidden Bride
Book 2: Stolen for My Spanish Scandal