In A Dog Called Valentine by Roxanne Snopek, Lily is a volunteer at an animal shelter. The person who runs the shelter begs her to foster a dog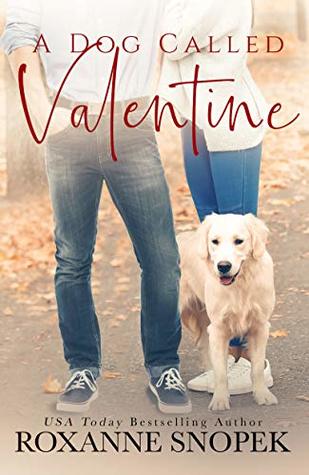 named Valentine, who had been adopted and then returned because of his behavior. Lilly reluctantly agrees, but quickly realizes that Valentine is more than she can handle when he takes off.
Shane lost both his career and his K9 partner in an arrest that went wrong. Now he's staying at his grandmother's house, rehabbing his injury and fixing up her house so she can sell it. When he notices a dog by himself, he wonders where his owner could be, until Lily appears. It's clear that Lily has bitten off more than she can chew, and when Valentine shows up at the house again, he offers to help her train him in exchange for Lily pretending to be his girlfriend to get his grandmother off his back. Lily wants what's best for Valentine and hopes that Shane can be his forever home. Can Valentine help Shane heal and bring Lily and Shane together?
Readers will feel for Shane and what he went through, and will understand why he feels he can't be Valentine's forever home. Readers will also enjoy Lily, who has a big heart and wants to keep Valentine, but is willing to give him up because she feels she won't have enough time to spend with him. Both want what's best for him. People will also feel for Valentine, who has been bounced from home to home. It becomes clear to both Shane and Lily that he had been through something in one of his previous homes which caused him to act out the way he did. He's scared to trust that they'll be there for him.
The romance between Shane and Lily is a slow burn. The majority of the book they built up a friendship as they worked together with Valentine and acted as a couple to keep his grandmother and her mother at bay. I liked that they took the time to get to know each other and that Valentine plays a role in it.
A Dog Called Valentine is a heartwarming and entertaining story about second chances, for both people and animals. Readers who love dogs shouldn't miss this one.
Book Info:

Publication: January 31, 2019 | Tule Publishing |
When an unwanted Valentine's Day present is dumped at the shelter, volunteer Lily decides to foster the poor dog herself. A little attention is all he needs to blossom into a loving pet, ready for his forever home. Plus, helping a poor, rejected animal will distract her from her own problems. Win, win. Right? Wrong. Valentine needs more than a makeover if he's going to be adopted. He destroys her home, hates to be groomed and when he behaves better for a perfect stranger than he does her, Lily swallows her pride and begs the good looking but quiet stranger for help
After losing his canine partner in a horrific moment that upended his future, sexy and stoic Shane turns to books, walks in the park and remodeling his grandmother's home. No more intense K9 officer career, no more dogs, no more risks. But it's hard to ignore the misunderstood mutt at the park and his well-intentioned, but clueless, handler. Shane reluctantly agrees to give her a few tips and tricks, but that's all. He won't care. He won't get invested. And once Valentine finds his new home, his life can go back to normal.
But Shane doesn't bargain on a new normal in town and, suddenly, Valentine's Day will never be the same.