In Guarding Faith (Guarding Seals #7) by Nicole Flockton, FBI agent Faith Timberly is good at undercover work but her latest case isn't an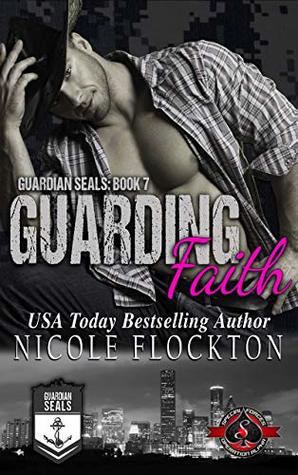 easy one to solve. Still, she's determined to find the bad guys and bring them down and nothing and no-one will stand in her way, especially not Navy SEAL Greg Robertson. However, the closer she gets to uncovering what's really going on, the more danger she puts herself in. Will Faith put her trust in Greg or will flying solo cost her everything including her shot at happy ever after?
What do readers get when Ms. Flockton combines an independent undercover agent heroine determined to solve her case without outside help and an overprotective Navy hero determined to help her? Well, readers get a very delightful, very intriguing and entertaining story filled with plenty of sexual tension, as the heroine is determined to fight her attraction to the hero because distractions are dangerous. Really, right from the beginning I enjoyed this story because of the hero and heroine's relationship; a relationship that the hero wants the chance to explore more. Will the heroine agree? Will she walk away?
"What?" he asked.
"What the hell has gotten into you? Do you think you can slow down?"
He ran a hand over his head, knocking his cowboy hat off in the process. It tumbled to the ground. Faith bent and picked it up, brushing it off and handing it back to him. "Sorry. That guy used to annoy the sh** out of me when we competed against each other."
"I guess he still does," she commented wryly. "By the way, I had the situation under control. I can take care of myself, you know."
As for the main characters, I really liked Faith. She's stubborn, independent, hard-working, willing to go the extra mile for a case and I loved how she challenged the hero and made him see that she's not a pushover and can take care of herself. Will Greg back off or will he do something that will make Faith see red? Will she be able to solve her case before things get too out of hand? Will the heroine be able to protect herself if things get too dicey? While the hero, he's overprotective, just as stubborn as Faith and I liked the tight friendships he has with the rest of his SEAL team. Certainly, they're there for each other through the good times and the bad, which is proven throughout this story by what his team do to help him.
Overall, Ms. Flockton again proves how fabulous she is at writing Navy SEALS and fantastic heroines, dialogue that creates wonderful sexual tension between the main characters and a story with an interesting plot and satisfying ending. I would recommend Guarding Faith by Nicole Flockton, if you enjoy stories encompassing Navy SEALS or stubborn and independent heroines or if you enjoy second chance romances.
Book Info:

Publication: May 14th, 2019 | Self-Published | Guarding SEALS #7
Undercover FBI Agent Faith Timberly is close to breaking the case she's been working on for months. The last thing she needs is a blast from the past coming back to distract her, but Greg 'Cowboy' Robertson is hard to resist. Long ago they'd shared one kiss that she's never been able to forget. With a promotion on the line, she will do everything she can to ignore an attraction that years apart hasn't dulled.
Navy SEAL Greg Robertson is ready to spend time with his family when he finds out a former teenage crush is competing at the Houston Livestock and Rodeo Show. Faith's beauty ignites a fire in him and he doesn't want to douse it. But Faith is acting strange. When he discovers she's an FBI Agent and working a case, he knows he should keep away…but he can't. Not when Faith's life is in danger.
Now that he's found her, Greg has no plans to let Faith go. But will he be too late?