The Way You Love Me by Miranda Liasson is the second book in the Angel Falls series. Gabby Langdon just made partner, but being a lawyer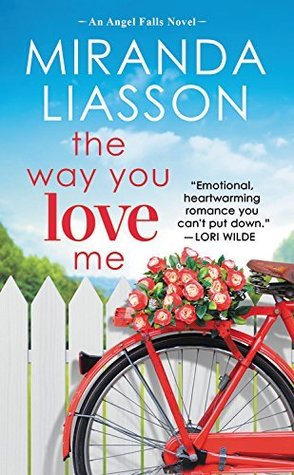 was what her father wanted for her. Her dream is to become an author, inspired by her mother's writings. In order to obtain her dream, she decides to take a class at a local college led by best-selling novelist Caden Marshall. Caden has returned to Angel Falls to teach a writing class after losing his confidence as a writer. Caden wants to keep his distance from his student, but as they collaborate on a research project, they find it harder and harder to keep their relationship professional.
I liked Caden and Gabby as individuals. Both of them have issues with prior relationships that make them wary of being in another one, especially Caden, who's ex-wife accused him of stealing her ideas for his best-seller. Gabby is a people-pleaser but Caden helps her see that it's ok to put herself and her dreams first for once. It felt like something was missing between them as a couple though. I can't put my finger on exactly what it was that didn't work for me. Don't get me wrong, I liked them well enough, but I wasn't overwhelmed by the chemistry between them.
I loved Cade with his daughter, Ava. He clearly loves her and wants what's best for her, which was part of the reason he moved back to Angel Falls. That way he could have a stable job to be there for her and she would also be close to her grandmother. Gabby was great with her as well.
The copy I read had a bonus story at the end called Meant to Be by Alison Bliss. While I won't go into a full review of it here, I will say that it was an enjoyable second chance novella.
The Way You Love Me is a charming romance between a single father and a woman who is trying to find her career passion. It's well-written with likeable characters and an enjoyable storyline. It's worth giving it a read.
Book Info:

Publication: January 29, 2019 | Forever | Angel Falls #2
Gabby Langdon has always tried to make people happy. She even went to law school to please her father, and now she's a highly successful-albeit bored-attorney. But Gabby secretly dreams of being a writer, so for once she does something for herself-she signs up for a writing class taught by best-selling novelist Caden Marshall. There's only one problem: her brooding, sexy professor is a distraction she can't afford if she's finally going to get the life she truly wants.
Recently divorced and suffering from the world's worst case of writer's block, Caden is in Angel Falls to get his life back on track. He's focused on teaching and providing a stable and loving home for his young daughter, Ava. The last thing he needs is to jeopardize his new job, which means keeping plenty of distance between himself and his talented new student-no matter how tempted he is by Gabby's beauty, kind heart, or the sparks that fly whenever they're together.