A Duchess a Day by Charis Michaels is the first book in the Awakened by a Kiss series and is based on the Snow-White fairytale. It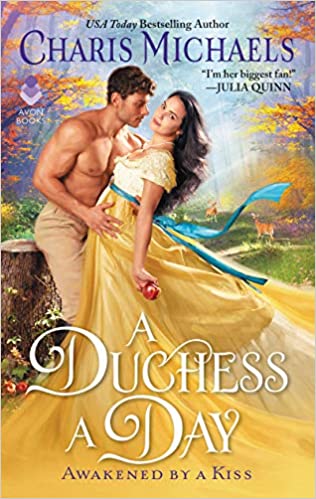 was an interesting plot and the author even put a twist by having the Duke of Lusk become the person to be woken by a kiss and not the heroine. The seven dwarfs were represented by the seven women and their characteristics, which added a fun touch to the story.
Declan Shaw was known as "The Huntsman" and was a mercenary. He found himself in prison after being wrongly accused of abducting and murdering Miss Knightly Snow, a previous client. When Titus Girdleston, the Duke of Lusk's uncle, appears at Newgate with a proposition for him to "mind" Lady Helena until the marriage, Declan reluctantly agrees. Titus would pay him a tidy sum, which would help take care of his dad and sisters, but Titus threatens to have him returned to prison if he allows Helena to getaway. His life becomes complicated when he learns Helena's reason for resisting the marriage and her plans. He couldn't help admiring her determination, optimism, and resiliency. He had to use all his skills as a mercenary to help Helena, but can he help her and still save himself?
Lady Helena Lark has been betrothed to the boring Duke of Lusk for five years and has done everything she can think of the avoid the marriage. She refused, ran away, even pretended madness, but her parents would not give up on her becoming a duchess. Their marriage would allow the duke to transport his limestone across her lands to the river gaining both families a fortune. Her family finally decided it was time for the wedding and they went to London. She only has one plan left to save herself from an unhappy marriage. Her last strategy is to find potential women who could charm the duke and cause him to go against Titus's plans and end their betrothal. The duke was indifferent to most things especially her and their wedding so finding a woman to catch his attention would be challenging. After gathering seven names and important information on the women at a garden party, she plans on locating one of the women a day, thus the title of the book. She has seven days until Titus's birthday party, where she can introduce them to the duke and hope they gain his attention.
The book was well written, and the author did a fantastic job weaving the fairytale Snow-White into the story. The characters were interesting, but I had a hard time connecting with them and feeling their emotions. Helena's characters didn't seem to have any depth and I couldn't empathize with her or her desperation to get out of the betrothal. Unfortunately, that caused me to lose focus while reading the book. I am interested to see what the author comes up with for the next book though because the author's concept for this book was so original.
Book Info:

Publication: November 10th 2020 | Avon | Awakened by a Kiss #1
An heiress with a plan…
Lady Helena Lark has spent years trying to escape her wedding to the vain and boring Duke of Lusk. She's evaded, refused, even run away. When her family's patience runs out, they pack her off to London to walk down the aisle. But Helena has another idea: find a more suitable bride to take her place, even if she must look for a replacement duchess every day.
A bodyguard with a job to do…
Declan Shaw, better known as "The Huntsman," is a mercenary who can pick and choose his clientele. After his last job, escorting a young noblewoman to France, landed him in jail under false accusations, he wants nothing to do with aristocrats or women. But the law isn't done with him, and if he agrees to babysit a duke's errant fiancé, the payout could make his legal troubles go away.
A most unexpected alliance…
When their worlds collide, Declan realizes that containing his new client is only slightly harder than keeping his hands off her. Helena senses an ally in her handsome new bodyguard and solicits his help. Together they must escape the forces that oppose them and fight for the fairy-tale love they desire.