A Family Made In Rome is the first of a duet by author Annie O'Neil revolving around a hospital setting. The reader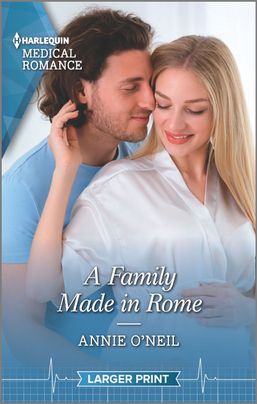 is introduced to the two main character at a medical convention. They had been together during a residency in the United States, but gone their separate ways five years ago: Leon back to Rome and Lizzy back to Australia. After one night of a passionate reunion, they once again go back to their own lives and careers as antenatal physicians.
When Leon is asked to become involved in an especially delicate case of conjoined twins, he decides to ask Lizzy to come to Rome to assist with a dangerous fetal surgery that could help bring the twins to full term. Of course, he knows Lizzy is a world class surgeon, but maybe he also realizes he still cares about her. Lizzy accepts, but has other news to share that came about thanks to the passion at the convention.
This was my first medical romance from the Harlequin line. I was quite impressed by the authentic detail since my first career was in the medical field. All the medical jargon and facts only added to the underlying love story. Both Leon and Lizzy have gotten so wrapped up in high stress careers that they have let outside interests fall by the wayside. In recent years, too many people in a variety of fields have become workaholics. The big emphasis on work/life balance is ignored even with people who have some choice in the matter.
Yes, both protagonists have baggage from the past, but who doesn't? You want to nudge both of them from the beginning to wake up before life passes them by.
The use of Italian phrases and foods brought Italy to life, especially for those of us who have never had a chance to visit. Through the reading of romance novels you can be an armchair tourist and soak up the culture.
While traveling overseas during this early time of 2021 is not easy, you can immerse in travel and happily ever after with this delightful book.
Book Info:

Publication: April 27, 2021 | Harlequin Medical Romance | Double Miracle at St. Nicolino's Hospital Duet #1
Can one last night in New York
Lead to a new beginning in Rome?
When Leon Cassanetti is called on to perform pioneering surgery on conjoined twins, he knows who he wants by his side—his ex, Lizzy Beckley. Their history is complicated…but Lizzy is honored to join Leon in Rome to save these babies. Only first she must deliver a baby bombshell of her own to this career-driven bachelor!
A Double Miracle at St Nicolino's Hospital novel