The Secret Bridesmaid by Katy Birchall: Planning a wedding can get stress for even the most prepared and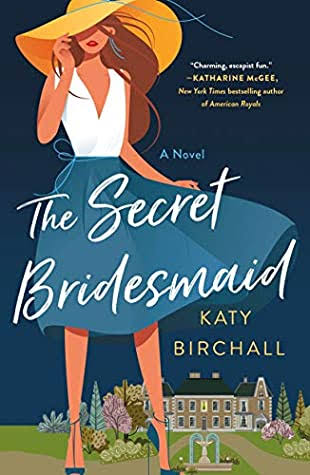 organized bride, which is where Sophie comes to the rescue. You see Sophie Breeze is a professional bridesmaid, she will be that long lost friend that no one can even remember just to help ensure that the brides special day runs smoothly. Having dealt with all types of bridezillas, mom-zillas and even groom-zillas Sophie is more than prepared for anything a wedding party can throw her way, that is until she lands herself the biggest wedding of the year and her childhood idol; Lady Cordelia Swan.
"I actually feel that, yeah, everyone needs a bridesmaid."
When Lady Victoria hires Sophie to help her daughter Cordelia with her up coming wedding Sophie is thrilled that this could be the wedding that sets her up with a whole new bracket of clients, also who wouldn't want to work with their idol? That is until they actually meet, with Cordelia giving Sophie the ultimate run around from picking up her laundry to mastering the art of swan whispering, all in the hopes that she will give up and quit. However Sophie Breeze is no quitter, determined to power on and prove to Cordelia that she is the best bridesmaid she could ever ask for, she finds herself battling snobby society girls and going on stealthy mission with the bride to be, all while swooning over Cordelia's charming brother Tom. But what will happen when a massive bomb is dropped just as Sophie is making headway with Cordelia, will the wedding go off with out a hitch?
I have been eagerly awaiting this book from the moment it was announced and let me tell you it blew my expectations right out of the water! The Secret Bridesmaid is quiet possibly the best book that I have read this year! I loved every second of this hilarious romcom/chick-lit novel with all of the zany antics that Sophie has to get up to all in the name of being a good bridesmaid.
Sophie was just amazing, I loved that we got to see her grow stronger and more confident as the novel progressed. With so much going on in her life she always made time for the people important to her all while balancing her role as bridesmaid to different needy brides. I have to say the Chewbacca one takes the cake for me, I would absolutely pay to attend a wedding with a Wookie in the bridal party!
"It wasn't that smushy. And what do you mean 'proposal'? Don't make this weird. It's not a big deal."
"It's a huge deal. You're asking me to be your bridesmaid!"
Cordelia Swan was a complete treat! Fighting to get Sophie to quit every step of the way with all her outlandish requests was just comic gold. That entire swan scene was just hilarious! Though I will say from all the relationships formed throughout this novel Sophie and Cordelia's was my favorite, I loved watching these two build their friendship even though it didn't start off very smoothly. I liked that even though Cordelia was so hard on Sophie she actually helped push her out of her comfort zone. As for our boy Tom Lord Dashwell, he added the perfect amount of hottie royal and sweet romance. I loved that they both acted super dorky around each other but in the cutest way possible.
"He's handsome, rich, and part of the British aristocracy. Essentially, he's a modern Mr. Darcy. Without the grumpy, brooding persona."
This novel so desperately needs to be made into a Netflix movie and asap! The Secret Bridesmaid was the perfect mix of hilarious wedding antics, sweet budding romance and a crazy new friendship. This laugh out loud, unputdownable novel is an absolute must read!
Book Info:

Publication: May 4th 2021 | St. Martin's Griffin |
Matrimony meets mayhem in a modern British romcom about a young woman charged with pulling off the biggest aristocratic wedding of the year––and the misadventures that ensue.
Sophie Breeze is a brilliant bridesmaid. So brilliant, in fact, that she's made it her full-time job.
As a professional bridesmaid, Sophie is hired by London brides to be their right-hand woman, posing as a friend but working behind the scenes to help plan the perfect wedding and ensure their big day goes off without a hitch. When she's hired by Lady Victoria Swann––a former model and "It Girl" of 1970's London; now the Marchioness of Meade––for the society wedding of the year, it should be a chance for Sophie to prove just how talented she is.
Of course, it's not ideal that the bride, Lady Victoria's daughter, Cordelia, is an absolute diva and determined to make Sophie's life a nightmare. It's also a bit inconvenient that Sophie finds herself drawn to Cordelia's posh older brother, who is absolutely off limits. But when a rival society wedding is announced for the very same day, things start to get…well, complicated.
Can Sophie pull off the biggest challenge of her career––execute a high-profile gala for four hundred and fifty guests in record time, win over a reluctant bride, and catch the eye of handsome Lord Swann––all while keeping her true identity a secret, and her dignity intact?
Heartwarming and hilarious, The Secret Bridesmaid celebrates the joys (and foibles) of weddings, the nuances of female friendship, and the redeeming power of love in its many unexpected forms.