In A Father at Last by Julie Mac Lawyer Kelly's life changed dramatically when she was a child after her father was sent to jail. One of the few people who stuck by her from childhood to young adulthood was her friend Ben. Ben is a bad boy too, but he is also her friend and protector. The last time she sees Ben, they move beyond friendship. The morning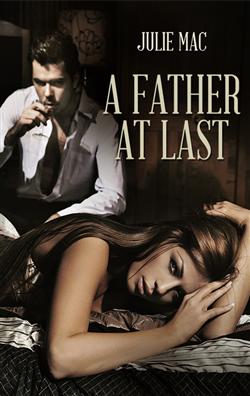 after, Kelly misinterprets something and sneaks off. Ben tries to find her, but he can't…and Kelly is pregnant with his child – a son she names Dylan.
Both of them move on with their lives. Kelly is a public defender when she sees Ben again, 6 years later. "The boy she longed to see again, the man she hoped never to see again." She doesn't know what Ben is mixed up in, but she assumes the worst and will do anything to protect her son and prevent him from suffering as she did as a child. She doesn't want Ben to wreck Dylan's life like her Dad did to hers. Kelly and Ben have found each other again, and the feelings are still there. Neither one is being completely honest with the other though, there is so much in both of their pasts that they need to move forward from.
"And getting involved – committing – means risking having a man leave you high and dry." Kelly can't stop how Ben makes her feel, but she is scared to let him in…scared about who and what he has become. Ben loves Kelly, but he doesn't believe he can be her future. With all the turmoil surrounding them, can they find their way back to each other and listen to their hearts, or is it too late for them?
This was a good romantic read! Kelly and Ben are each unique characters who I could picture in my mind. They are both strong characters who at first seem stuck in the past, but as I got further into A Father At Last I came to understand them and their situations more. They both have their own believable reasons for their actions. The secondary characters (especially Dylan and Kelly's Dad) are a great addition to the story. Dylan is so sweet! I really liked how Julie gave us a bit of mystery/suspense in A Father At Last, this book is so much more than the title actually suggests!
Rating
Info: Publisher: Escape Publishing – Harlequin Enterprises, Australia Pty Ltd (March 1, 2013)
Sensibility is lawyer Kelly Atkinson's second name. So how can she love bad boy Ben Carter? Ben is a no-go area, as far as she's concerned. There can never be anything between them. Apart from their six-year-old son, Dylan.
But Dylan is all the more reason why there can never be anything between them. Kelly's dad was in trouble with the law when she was a child and she lost him. Never in a million years would she want her darling son to suffer the same fate, no matter how powerful the chemistry between her and Ben.
And it's there, strong and potent as ever.