I loved this novella! And you should know by now that I don't love novellas… But the author, Samantha Hunter, had me feeling happy, sad, angry and amused. All of that in 70-something pages? Consider me impressed!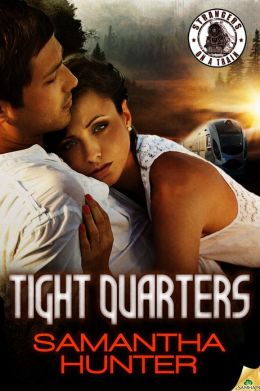 Because Tight Quarters by Samantha Hunter is one of the Strangers on a Train series, you know this is going to have a train involved. But this time, its a real, actual operating train (see my review for Big Boy by Ruthie Knox). We meet Brenna Burke, who had a horrific accident when she was younger and who now suffers from pretty severe claustrophobia. A lot of us suffer from that a little, right? So what's the big deal? Well, again, hers is severe but what makes matters worse is that she wants to be a travel writer. And you can't be a travel writer if you're too scared to fly or drive or get on a train because of the tight spaces. Now, my first thought was, "If you have severe claustrophobia, why in the heck would you even TRY to be a travel writer?!" but that's what made me like Brenna so much. It doesn't matter that she fears something. If she wants it, she's going to work so that she can get it! Later, I thought that her You-Can-Do-It attitude would be cloying and irritating but it never really is. I mean, Brenna struggles so its not just "Yay, you can do it" and she does it. It's definitely not that simple for her and I was really rooting for her. Anyways, her first test is a train ride. Like the ones that cost an arm and a leg these days… with the sleeper cab and dining cars and all that? Well Brenna books herself the largest sleeper cab that there is and she's going to try to take this quick little four day trip to see if she can handle simple travel in a relatively small-ish space. But you have GOT to know that it's not going to go as planned for poor Brenna!
In walks sexy, 6'3″, wall of muscle, Reid Cooper! He's a former NYPD officer who was hurt while on duty. He's retired early and is now trying to figure out what to do with his life. But first, he has to figure out how his reservation on this train got mixed up because he's booked in the same room as Brenna! You KNOW that for Brenna, its bad enough that she would have to share her space but to have to share it with a giant like Reid? Um, no! But that's what happens and Reid is helpless against Brenna's gruff exterior since her sweetness and charm can't really be hidden. Reid is an awesome character. His size is so intimidating but he's such a great guy. The way he just kind of jumps in and helps Brenna… He could practically be a shrink! He just kind of has a knack for speaking to Brenna and handling her phobia and it was so much fun to watch.
I thought it was really implausible that a single, modern woman would consent to sharing a sleeper berth with a large, strange man especially when Brenna is so afraid of travel, etc. But if you set aside the implausibility, you'll love this story! I had a lot of fun reading it and also had a few laughs along the way. Reid and Brenna make a great couple and they are certainly very hot and steamy! Even though this is a novella, I loved this book and would definitely recommend it! An excellent, quick read!
Rating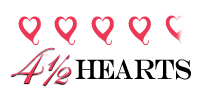 Book Info: Publisher: Samhain Publishing, Ltd. (April 2, 2013)
Two hearts converge…until fear runs love off the rails.
A Strangers on a Train Story
In the years since a horrific car accident left her with a long list of phobias, Brenna Burke has overcome them all except one. Crippling claustrophobia—not a good trait for an aspiring travel writer.
With an interview for her dream job looming, Brenna forces herself to board a train for a weekend tour through New York State…only to find her berth has been double booked.
Retired NYPD detective Reid Cooper isn't happy about the mix-up, or his attraction to his petite, sexy roommate. But as their up-close-and-personal weekend progresses, something remarkable happens. Being with Reid makes Brenna feel normal, unafraid of anything.
After one passionate night, both are thinking beyond a mere weekend fling. But when Brenna's last phobia pounces at the worst possible time, she could miss the last boarding call for happily ever after.
Warning: This book contains a hot-to-the-touch hero and sizzling sex at high speeds.