In A Few Pecans Short of a Pie (Southern Eclectic #2.5) by Molly Harper, Since falling in love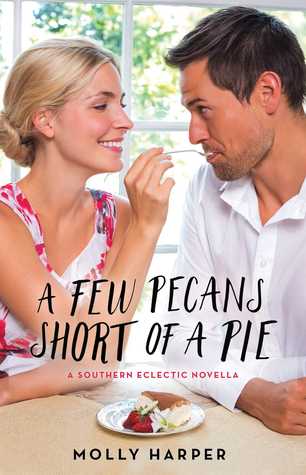 with school principal Kyle Archer in the tiny town of Lake Sackett, Margot Cary has seen a lot of changes in her life. Beginning with her decision to stick around in town. And not just because of her long-lost family she has come to adore, but also because she's now engaged to her sexy guy. And pregnant!
"I happen to think you look beautiful having my baby."
"You, sir, are biased," she said.
"Yes, I am," he said… "I love you and think you're the most beautiful woman in the world, no matter what tragedies befall your belly or your feet."
As Margot starts to plan the wedding of her dreams, she figures it should be a piece of cake. She was an event planner back in Chicago so she knows all the ins and outs already. But she didn't realize how difficult it would be to make everyone in her family–and even the local residents–happy with her choices. Never mind that Margot's chances of fitting into a beautiful wedding dress are dwindling every day. Between the hormones, the morning sickness that lasts *all day*, and her indecision on all things wedding, Margot could use some help. Or a miracle.
"Planning a wedding in a small town is really difficult, Margot. It's not you."
Margot threw her hands up in the air. "I don't get it. Why does everybody seem so emotionally invested in something that is not at all about them?"
A Few Pecans Short of a Pie had all the Southern charm and lively (read: hysterical) dialogue I've come to crave in Molly Harper's one-of-a-kind books.
'Margot had considered just leaving 'I'ma marry my man and no one's gonna stop me' scrawled on a scrap of butcher paper on her bed and disappearing.
But that was the cowardly route. Effective, but cowardly.'
Anything Molly Harper writes is basically my own personal brand of catnip. I adore her work that much. And I find myself reading her books so quickly that, even though I try to take my time, I immediately want to go right back and re-read it all over again. Such was true for A Few Pecans Short of a Pie. It was great to be back in Lake Sackett again, catching up with the McCreadys and all the other kooky locals. And this time the story was something to celebrate about: Margot and Kyle (from Sweet Tea and Sympathy) were not only pregnant, but were getting married. Although, nothing can be easy for the adorable couple. Especially with their families butting in at every turn. Oh, the drama and laughter!
This was a novella but it certainly didn't lack in humor or heartfelt moments. I loved getting back in Margot's head–this was told through her POV–to see how she and Kyle were still just as much in love as they had been at the close of their full-length book. Their relationship was as strong as ever. And the connection between Margot and Kyle's daughters, Hazel and June, was growing and evolving as well. It was ridiculously fun to see our preggers bride-to-be interact with her family while trying to keep her rapidly fluctuating hormones from making her tell them all what she *really* thought of their (not so) helpful suggestions for her and Kyle's impending wedding. (lol) But it all ended with a sigh-worthy scene that had that classic Molly Harper blend of romance and giggles.
Note: The timeline of this novella runs parallel to Duffy and Lucy's romance (Gimme Some Sugar) but you can read it on its own easily enough without any major spoilers.
A boisterous family, a well-meaning groom, and a hormonal bride made A Few Pecans Short of a Pie an absolute joy to read. Just when I thought Molly Harper had shown us all the antics this group of characters could muster, she pleasantly surprised me once again. Definitely recommended.
Book Info:

Publication: February 4th 2019 | Gallery Books | Southern Eclectic #2.5
Sexy school principal Kyle faces the biggest challenge of his career: getting his (pregnant) event planner girlfriend Margot down the aisle before the baby arrives!
Readers first fell in love with big city event planner Margot in the first Southern Eclectic novel, Sweet Tea and Sympathy, as she discovered a long-lost branch of her family—the McCreadys, of McCready's Bait Shop & Funeral Home. To Margot's surprise, she's taken a liking to life in small-town Georgia…helped along by a romance with the hot elementary school principal.
The two of them have been taking it slow—or they were until Margot gets pregnant! Kyle wants to make an honest woman of her, but Margot's still trying to proceed with caution. After all, she was the best event planner in Chicago before she ever came to Lake Sackett—her wedding has to be perfect, and perfect includes not having the baby halfway down the aisle.
With her trademark witty prose and warmhearted storytelling, Molly Harper's newest glimpse of the McCready family will be perfect for fans of Christina Lauren and Amy E. Reichert.