In Weekend Fling by Stacey Lynn, Willow Parks is working two jobs in order to support her mother,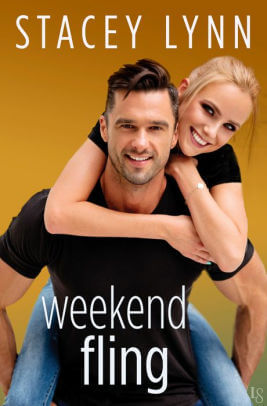 who has fallen apart after her husband left her. One of her jobs is working at a coffee shop, where millionaire Trey Collins comes in every morning to work and get coffee, as well as to see Willow.
When Trey needs a date to a beach wedding, he offers her a trip she desperately needs, with promises of only going as friends. Something changes between them that weekend, but when her mother takes a turn for the worst, will Willow be able to but aside her distrust of men and put her trust in Trey?
While this is part of a series and can be read as a standalone, there are characters from the previous books that are intertwined with this one. I've only read one other book in the series, and I'll admit the fact I haven't read the others made me feel like I was missing something when it came to them. It wasn't enough to take away from my overall enjoyment of the story though.
This book deal with the mental illness of Willow's mother. I thought that aspect could have been developed more, but, other than that, I thought it was handled well. I liked how Trey stood by Willow and helped her through it, even giving her space when she needed it.
I thought there could have been more of a resolution with the situation between Willow and her father. While I loved that she called him out on his behavior, and I thought his excuse for leaving was valid, he didn't handle it well at all. If he was going to leave for the reason he did, he could have at least explained the situation to Willow. Instead he leaves Willow alone to deal with the aftermath, not even bothering to reach out to make sure she was ok, and leaving her confused as to why he would just take off. Needless to say, he was probably my least favorite character in the book, despite the fact he tried to make more of an effort to be there for her.
I enjoyed Trey's friends and how quickly they welcomed Willow into their fold. They're clearly a tight-knit group who care deeply about one another.
Weekend Fling has a bit of everything: love, friendship, laughter, heartache, and drama. It's an enjoyable read, and I think readers both new and old to the series will enjoy it.
Book Info:

Publication: November 26, 2019 | Loveswept | Crazy Love #4
Fresh out of a long-term relationship, Willow Parks is working two jobs and caring for her mother, whose husband left her with nothing but a pile of bills. That's why Willow made a vow: no men until she figures out her own life.
But while she may not need a man, she could use a break. And a weekend away at a California beach to clear her head? That's appealing. Even if the offer comes from Trey Collins, the irresistible tech-mogul millionaire who visits her coffee shop every morning like clockwork—and needs a date for his best friend's wedding. With an adorable, occasional stutter, he refuses to take no for an answer.
Once the weekend begins, Trey is intent on proving how good they can be together. Willow's even feeling tempted to break her vow—until reality rudely interrupts her well-deserved getaway. There's no way she and Trey have a future, not with the colossal amount of baggage Willow has to offer.
But Trey is used to getting what he wants. He just has his work cut out for him convincing her that they want the same thing.