In A Good Day for Chardonnay (Sunshine Vicram #2) by Darynda Jones, Sunshine Vicram is still new(ish)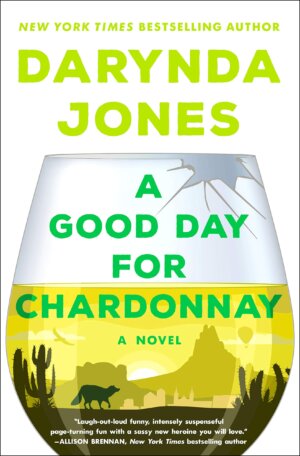 as the sheriff of Del Sol, New Mexico–although she knows her hometown and the lovely-but-offbeat people who inhabit it like the back of her hand. As she tries to make it through just one day without a huge catastrophe or with her teenage daughter Auri not getting into some kind of mischief, Sunny honestly isn't surprised when she's called to the local bar. Nope, not for a drink…or three. But to investigate a stabbing and a hit-and-run. As the case takes a few unexpected turns, Sun's past–when she was abducted in her late teens, as well as a missing persons case that's haunted her for years–has new details emerge. And the information could finally give her some much needed closure.
"Do you think, and I know this is asking a lot, but do you think you could possibly keep your granddaughter from getting into any more trouble for the rest of the night?"
Her father shook his head. "I can't make any promises, Sheriff. Look who her mother is."
He had a point.
Auri knows she's been testing her mother's patience recently, particularly since they moved to Del Sol. But she's a teenager, so isn't that kind of her job? Okay, she also knows her mom has her plate full, being the new sheriff in town and with the kooky things that tend to happen in Del Sol. Auri doesn't set out to get into any trouble. Really, she doesn't. She just wants to be the one to solve a cold case the town has been overlooking for decades. As she recruits her boyfriend Cruz and her BFF Sybil to help with the case, Auri unknowingly puts them all in danger. And seeing as how her bestie has had her fair share of hard times recently and her boyfriend seems to be hiding something that's upsetting him, Auri ends up having way more to figure out than first planned.
"I'm kind of in love with you, Auri."
Her lips parted in surprise. He started to take off when she blurted, "I'm kind of in love with you, too, Cruz."
A Good Day for Chardonnay was a superb follow-up in the Sunshine Vicram series–and a novel that will keep readers on the edge of their seats. Humor, a fast-moving plot, action, swoony romance…Darynda Jones included it all here and it worked perfectly.
'She looked at the hard lines on the face of the man she loved more than a good bottle of chardonnay. And that was saying a lot.'
First, I have to say that Darynda Jones has the most awesome book titles for this series so far. (Book one was A Bad Day for Sunshine, and boy was it ever) Second, I am simply in love with Sunshine, Auri, Cruz (adore him), Quincy, Levi (oh my word, Levi!), and the rest of the quirky locals in Del Sol, New Mexico. The town itself was like a living, breathing character in the story. From the townspeople to the locations Sunny and her crew explored in this installment, Jones described it all so well that I literally felt like I was there in every scene. And that's impressive considering I've never been west of the Mississippi. (lol)
It's always tough to review one of Jones's books because I want to go all fangirl, first of all, but there are also so many layers to her stories that it would be easy to give spoilers. What I can say is that Sun was still fighting to figure out what happened in her past when she was abducted, who was involved, and how it related to what was going on in the present with a few outlying members of the Ravinder family. There was also, of course, a new case in Del Sol snagging Sunny's attention and keeping the force on their toes.
There was a lot happening in Sunny's spunky daughter Auri's life as well. Much of it revolved around her boyfriend Cruz, whom I couldn't love more if I tried. In some ways (the best of ways) Auri and Cruz's relationship reminded me of Sunny and Levi quite a bit. Especially the guys. Levi and Cruz were just *good* to the core and were the type of guys who would do anything at all for those they loved. Jones reduced me to tears when it came to Cruz's part of the storyline. But as sad as his situation was, it also showed the level of care and camaraderie locals in Del Sol had for him and anyone else in need. *sigh*
Be prepared to giggle, cry, and sigh happily–sometimes all within one scene–and for some shocking revelations when you read A Good Day for Chardonnay, Darynda Jones's newest masterpiece. Highly recommended.
QOTD: This series (and her Charley Davidson series) has an ongoing story arc, with the same main characters from one book to the next. Do you like a series that has continuity to it or one that has different main characters and situations with each new installment?
Book Info:

Publication:  July 27, 2021 | St. Martin's Press | Sunshine Vicram #2
From the New York Times bestselling author Darynda Jones comes the second novel in her laugh-out-loud Sunshine Vicram mystery series, A Good Day for Chardonnay.
Running a small-town police force in the mountains of New Mexico should be a smooth, carefree kind of job. Sadly, full-time Sheriff—and even fuller-time coffee guzzler—Sunshine Vicram, didn't get that memo.
All Sunshine really wants is one easy-going day. You know, the kind that starts with coffee and a donut (or three) and ends with take-out pizza and a glass of chardonnay (or seven). Turns out, that's about as easy as switching to decaf. (What kind of people do that? And who hurt them?)
Before she can say iced mocha latte, Sunny's got a bar fight gone bad, a teenage daughter hunting a serial killer and, oh yes, the still unresolved mystery of her own abduction years prior. All evidence points to a local distiller, a dangerous bad boy named Levi Ravinder, but Sun knows he's not the villain of her story. Still, perhaps beneath it all, he possesses the keys to her disappearance. At the very least, beneath it all, he possesses a serious set of abs. She's seen it. Once. Accidentally.
Between policing a town her hunky chief deputy calls four cents short of a nickel, that pesky crush she has on Levi which seems to grow exponentially every day, and an irascible raccoon that just doesn't know when to quit, Sunny's life is about to rocket to a whole new level of crazy.
Yep, definitely a good day for chardonnay.