A Hometown Proposal by C.J. Carmichael: Maureen Shannon is still dealing with the death of her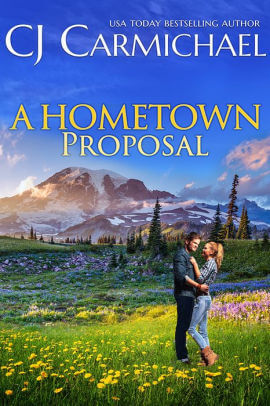 husband a year ago from a climbing accident. Most of that is due to the fact that her twelve year daughter was certainly a "daddy's girl" and didn't understand a lot of went on behind the scenes of her parents' marriage. Maureen is more angry than grief stricken. Her husband quit work to stay home with their daughter Holly when she was first born and Maureen was the breadwinner. As Holly got older, Rod would spend more time doing extreme sports with his friends instead of doing activities with his family. Holly blames her father's death on her mother instead of her father's carelessness.
Maureen quits her job and moves back to her hometown of Whitefish, Montana. She hopes being near her sisters and the great outdoors with bring healing to her daughter.
Maureen decides to invest in a heli-skiing and lodge resort. She will be the silent partner owner to Jake Hartman. Jake is afraid to be more than a partner with Maureen. She has enough baggage from the past and a young daughter who may enjoy spending time with him, but would probably not appreciate his getting too close to her mother. Will the two of them be able to overcome the past and forge a future?
The Hometown Proposal is the third in a series, which I didn't realize at first. I would advise readers to start with the first of the series. I became confused at the start when so many characters were thrown at me. I am sure it would have been better if I knew more of their back story.
I have empathy for Maureen as she has to deal with a daughter who is dealing with grief and the entrance into adolescence at the same time. The side story of Holly acting as a "private detective" added some suspense to the story.
The author shares in the beginning that she first wrote this series 25 years ago and updated and re-worked it. She seems brave to have done that.
A Hometown Proposal is as much about family and its importance as it is a romance. It is a good book to curl up with on a rainy day.
Book Info:

Publication: January 26, 2021 | Tule Publishing | The Shannon Sisters #3
She's looking for a second chance to reconnect with her daughter but finds so much more.
Since her husband's climbing death a year ago, Maureen Shannon's relationship with her twelve-year-old daughter has spiraled out of control. Desperate, she resigns from her partnership at a legal firm and moves back to her hometown in Whitefish, Montana, with the hope that family and nature can heal their wounds. Her investment in a heli-skiing and lodge operation makes financial sense, but her attraction to the owner doesn't. He's everything she's come to hate—a man who makes his living chasing adventure.
Jake Hartman knows Maureen Shannon is off limits. She's an investor in his company—a silent investor who's never silent. Worse, she's a mom who's beautiful, intelligent and makes him feel more alive than he's ever known. A self-confirmed bachelor, he finds himself uneasily contemplating a very different partnership.
But will Maureen be able to let go of her past and build a future with a man who never imagined becoming a husband or a father?