Stripped Bare by Heidi Mclaughlin: Macey needs money to give her a daughter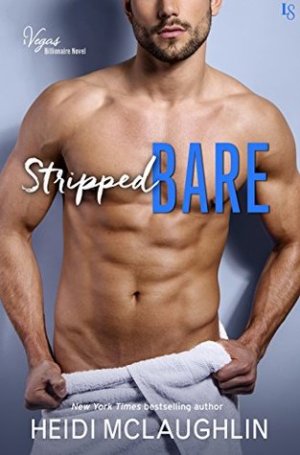 a better life. As it is, their situation is untenable. So when Macey sees the opportunity to visit Las Vegas and make big bucks stripping for a week, she takes it. But a week later, when all is lost, a new opportunity in the form of being the kept woman for the wealthy Finn McCormick for a week occurs.
Finn loves the Vegas life. He doesn't believe in love for himself, not after his father's experience, and so he plays the playboy. But in comes Macey. What began as lust and a desire to help the girl he knew from high school, becomes so much more for Finn – he just needs to accept it.
Macey falls hard, but knows there is no future with Finn. Especially not with her daughter needing her. But when secrets from their past in high school come out, they'll find it hard to remain separated.
Macey and Finn are total opposites. One wants the high life of wealth, extravagance, and no permanence beyond his casinos and hotels, and the other just wants security and enough. In that way, I liked Stripped Bare. However, overall the story just did not work for me. One of the points that really annoyed me is how Macey's stripping was treated. If you're going to have your heroine be a stripper, you just can't degrade her for it. Due to this attitude, from the author and the hero, towards Macey, I had a difficult time respecting and liking her.
Otherwise, Macey was fine by me. I didn't feel she was particularly strong – but she tried to give a better life her herself and her daughter. Finn I found just unlikable. He was arrogant in a jerk way and he helped make their relationship feel completely unequal. I didn't feel equal respect and love between them. It felt more like him saving her out of pity and lust.
For those who enjoy the Cinderella romance, give Stripped Bare a shot. It certainly is that type of story and, while it didn't work for me, I hope it does for you.

Book Info:

Publication: March 28, 2017 | Loveswept | Vegas Billionaires #1
They don't call it the Strip for nothing. . . .
In this sinfully sexy Las Vegas romance from bestselling author Heidi McLaughlin, a man who has it all reunites with a woman who takes it all off.
Living in Sin City, Finn McCormick is no stranger to one-night stands, but the last person he expects to find losing big on the casino floor is a former high school fling. Even though Macey Webster's clearly down on her luck, she's still a knockout, and she's dressed like a stripper—because she is one. Drunk off an unfamiliar cocktail of lust, pity, and compassion, Finn offers to pay Macey's debts if she cuddles up to him around town . . . and does whatever he wants between the sheets.
Macey came to Vegas for one reason only: money. She's got a young daughter to support, and the tips really are bigger in Vegas. But when she blows her earnings on blackjack, her guardian angel is the rich boy who once stole her heart and never called her back. Although Macey would love to turn the tables on Finn, she can't afford to refuse his proposition—and soon she's enjoying herself much more than she cares to admit. Macey's used to baring her flesh, but baring her soul will take far more courage.