A Lady's Guide to Mischief and Mayhem by Manda Collins is the first book in the rom-com series,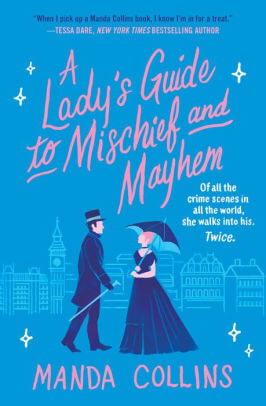 A Lady's Guide. This was a new-to-me author and the author snagged my attention right away with the unsolved mystery of the murderer in the beginning chapter.
The book was fast-paced, full of intrigue, and had an unpredictable ending. The storyline was about a woman reporter wanting to write about criminals and other dangerous topics so women could be aware of potential danger and prepared if faced with them.
Lady Katherine "Kate" Bascomb became the owner of The London Gazette when her husband died, and she had become a notorious columnist for the newspaper. Kate and Caro Hardcastle, her new friend, decided their first article should be about the unsolved murderer, the Commandments Killer. An unknown person was murdering people in London and leaving a note with one of the Ten Commandments written on it.
Naively Kate and Caro thought they were helping but their article only lead to the arrest of an innocent man. To escape the spotlight, Kate leaves town to attend a house party only to come across another victim of the murderer on her first day there. When Detective Inspector Andrew Eversham arrives to investigate the murder, Kate is determined to help him solve the case. She feels obligated to find the killer so the man falsely accused will be released from jail.
Detective Inspector Andrew Eversham had worked hard over the years to prove himself at Scotland Yard and when he is removed from the case of the Commandments Killer, he was furious. His superiors were impatient for the case to be solved but he was disappointed when an innocent man was arrested just to please them. When he is sent to the Lake District to investigate another murder, he discovered that Kate was the one to find the victim and he is determined to keep her from ruining his investigation again. As he continues his investigation, Kate's intuition and determination slowly wear down his resistance to her help. His admiration and respect for her grew as they got closer to solving the murder mystery.
The book was full of twists and turns and the romance component took place more in the background. The plot of enemy to lover was ideal for the story and the character's personalities complimented each other perfectly. I didn't care for Kate at first because she seemed to just take over the investigation and caused more harm than good. She did redeem herself though when she apologized and started to cooperate with Andrew and become his partner. Overall, I enjoyed reading the book and look forward to the next one which will hopefully be for Caro.
Book Info:

Publication: November 10th 2020 | Forever | A Lady's Guide #1
An intrepid female reporter matches wits with a serious, sexy detective in award-winning author Manda Collins' fun and flirty historical rom-com!
England, 1865 : As one of England's most notorious newspaper columnists, Lady Katherine Bascomb believes knowledge is power. And she's determined to inform and educate the ladies of London on the nefarious-and deadly-criminals who are praying on the fairer sex. When her reporting leads to the arrest of a notorious killer, however, Katherine flees to a country house party to escape her newfound notoriety-only to witness a murder on her very first night. And when the lead detective accuses Katherine of inflaming-rather than informing-the public with her column, she vows to prove him wrong.
Detective Inspector Andrew Eversham's refusal to compromise his investigations nearly cost him his own career, and he blames Katherine. To avoid bad publicity, his superiors are pressuring him to solve cases quickly rather than correctly. When he discovers she's the key witness in a new crime, he's determined to prevent the beautiful widow from once again wreaking havoc on his case. Yet as Katherine proves surprisingly insightful and Andrew impresses Katherine with his lethal competency, both are forced to admit the fire between them is more flirtatious than furious. But to explore the passion between them, they'll need to catch a killer.