Vows in Name Only by Naima Simone is the start of sexy and exciting new series for a trio of brothers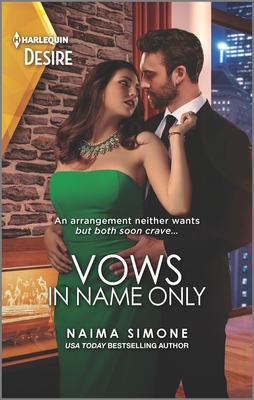 that begins with blackmail and a marriage of convenience.
Cain Farrell knew his father was a bastard but didn't know how much until he died and the will was revealed. He discovers that he has two brothers he'd never known about and that all three of them must work together for a year if he's going to inherit the company he always expected would be his. But as if that wasn't enough, his father was also being blackmailed with threats against Cain's mother. Cain won't let anyone hurt her, so he agrees to go along with the blackmailer's plans – to marry his daughter and give her and her father access to society that the blackmailer needs to prop up his investments.
Devon Cole knows that her father has changed dramatically since her mother died and they moved away from her close-knit family. She chalked it up to grief, but it's taken an ugly turn. Now she finds out that her father expects her to marry Cain Farrell, a man she's only met once before and that if she doesn't, he'll make sure the funding for the community center she works at dries up. Forced into an engagement caused by blackmail on both sides, is there a chance they can turn an unorthodox relationship into something real?
I always enjoy this author's books and this story lays out nicely why – drama, intrigue, passion and a hard fought for and well deserved HEA. Cain and Devon might despise the reasons they are forced together but they can't fight the attraction they feel for each other, leading to emotional and sexy love scenes even while they, especially Cain, don't want to admit that their feelings for each other are deepening.
Cain and Devon share difficult childhoods characterized by emotionally (and in Cain's case physically) abusive fathers which draws them together. While Cain initially believes that Devon is a gold-digger since she won't tell him why she's agreed to the marriage, her actions don't match his beliefs. He finds himself sticking up for her in front of her father, and doing things for her that make her happy. It's a bumpy road, but their path leads to a satisfying happy ending. Cain also starts to bond with his new half-brothers and I'm looking forward to seeing what the author has in store for them!

Book Info:

Publication: Nov 01, 2020 | Harlequin Desire | Billionaires of Boston #1
Devon Cole must marry Cain Farrell or lose everything. But she can never let her billionaire husband-to-be know why she agreed to her father's dangerous machinations. Just as she'll never know her father is blackmailing Cain to tie the knot, too. What kind of marriage can Devon even expect from a man with such cold eyes…and such hot kisses? She's about to find out.