A Marriage of Benefits (Home to Oak Hollow #4) by Makenna Lee: Jessica Talbot is the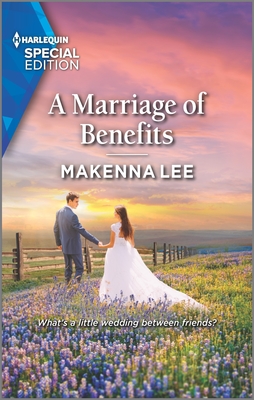 new veterinarian in Oak Hollow, the typical small town where everything is known and gossiped. She's about to achieve her dream of owning her own clinic and wildlife rescue, but she needs her trust fund to reach her goal. Only there's a problem: in order to have access to the money, Jess must get married. It's at this moment that officer Jake Carter enters the scene. The young man needs to pay his father's expensive medical bills. So when Jess offers him an arranged marriage that will benefit them both, he accepts. Of course, they set the rules of what their marriage will be in black and white, but the rules are meant to be broken, aren't they? And soon their charade becomes a very real marriage…
Jess and Jake have known each other since they were teenagers, when Jess would spend her summers in Oak Hollow, and they had a crush on each other, but were too shy to express their feelings back then. Their reunion was not as great as it should have been, however, this was the beginning of a great love story. They weren't originally looking for happily ever after. They have had their respective failures in love and don't want to be hurt again by someone who doesn't love them with all their heart. Despite this, they see in that marriage of convenience a way out of their problems.
The love between them, although it seems to go very fast, develops slowly, like the rhythm of the story. The interactions between the main characters are fun but at the same time very intense. The chemistry between them is good, although sometimes it's hard to connect with Jess and Jake, taking off the shine they should have.
In a small town there are always colorful and funny characters and, while there are interesting characters here, they weren't as remarkable as I expected. Of course, this doesn't negatively influence the plot. On the other hand, there are aspects of the story that don't seem entirely believable.
Although the book has flaws, its reading is slow but consistent. In turn, the scenes are well written and flow into each other without spoiling their essence. With an idyllic ending, worthy of Jess and Jake's romance, it's a story that has made me laugh and I really enjoyed it.
Book Info:

Publication: February 22, 2022 | Harlequin Special Edition | Home to Oak Hollow #4
She's buying a husband
And he's buying a…dog?
Veterinarian Jessica Talbot wants to build a clinic and wildlife rescue. She could access her trust fund, but there's a caveat—to get the money, Jessica needs a husband. When she learns Officer Jake Carter needs funding to buy and train his own K-9 partner, Jessica proposes. Jake is shocked, but he agrees—only for the money. It's the perfect plan—if only Jessica can avoid falling for her husband…and vice-versa!
From Harlequin Special Edition: Believe in love. Overcome obstacles. Find happiness.
Home to Oak Hollow
Book 1: A Sheriff's Star
Book 2: In the Key of Family
Book 3: A Child's Christmas Wish
Book 4: A Marriage of Benefits