In The Bodyguard by Katherine Center, Executive Protection Agent Hannah Brooks is having a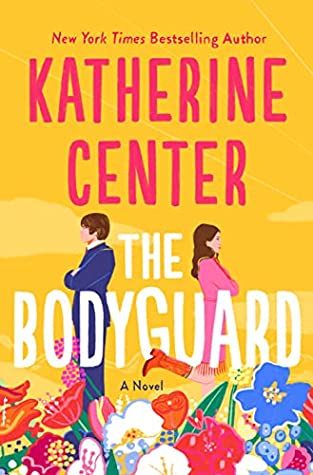 really tough go of things right now. Instead of being on assignment halfway across the world, she's at home in Texas, planning her mother's funeral and dealing with her now ex-boyfriend. How she could have been so wrong about Robby, given that she's used to noticing every detail about a person, has Hannah perplexed. Evidently it's much easier to notice things on the job as someone's bodyguard than it is in your own personal life. It turns out that's especially true when you're assigned to a very famous, very gorgeous movie star like Jack Stapleton, Hannah's newest client.
Jack Stapleton–*the* Jack Stapleton–was on his knees. Begging.
The man could act. He leaned his kneeling body forward and looked up at me with his hands clasped. "I'm begging you to help my sick mom", he said.
I mean, come on. I'm not made of stone. "Fine," I said, summoning a rather Oscar-worthy fake nonchalance. "Stop begging. I'll be your girlfriend."
Being the one responsible for keeping a world-famous actor out of harm's way–or out of the clutches of a demented corgi-breeding stalker–isn't the most daunting part. Nope. Playing the role of his besotted girlfriend in front of his family is. Problem umber one: Hannah isn't an actress. Number two: She tends to wear her heart and her emotions on her sleeve. And number three: She kind of already has a smidge of a crush on Jack. But as she grows closer to Jack and his family, and the threats against him become all too real, Hannah will have to decide if what she feels for Jack is real or if it's just them convincingly acting out their roles.
"People who want to be famous think it's the same thing as being loved, but it's not. Strangers can only ever love a version of you. People loving you for your best qualities is not the same as people loving you despite your worst."
A first person narrative laid out like an intimate conversation with the heroine, Katherine Center took a role reversal romance, added some fun, lively bantering as well as true depth to the storyline to round out The Bodyguard.
'Was it totally ridiculous for me to try to date a movie star? Absolutely.
Was I going to do it anyway? You bet.'
Trigger warning: View Spoiler »alcoholism, suicidal thoughts/actions, hostage situation. « Hide Spoiler
I had such a great time reading this book. I'm new to Katherine Center's work but Hannah and Jack's romance makes me want to run out and grab up everything she's written. From the funny, super quick back and forth conversations to the charming secondary characters and even the tough personal issues both Jack and Hannah were working through, The Bodyguard just floored me. It had everything from elements of a rom-com to a romantic suspense and a family saga thrown in. But it absolutely worked for me.
Can I just say, Poor Hannah! She recently lost her mom, with whom she had a complicated relationship–but still, it was her mother. Then there was how (and when) her smarmy ex-boyfriend broke up with her. She had a betrayal by a close friend around the same time. And then Hannah was tasked with keeping a devastatingly handsome movie star safe. In Texas. The last place in the world (literally) she wanted to be. I got a kick out of how Hannah fought tooth and nail to turn down the assignment, how her boss Glenn pushed back, and how she wasn't afraid to speak her mind afterwards. It was comical. But it also showed Hannah's backbone made of steel. She knew herself when it came to her job. It was her personal life that was a big old mess.
Jack, well… *dreamy sigh* Jack was the ultimate movie star but he was also such an honest to goodness nice guy. It makes me smile just thinking about how caring he was with his parents as his mom fought a serious health battle–and how Jack found joy in just about everything Hannah said or did. I loved their scenes together. There was delicious tension between them of course, but it was how close they became over time, creating a tight connection that was unique to them and so very beautiful for others around them to see.
QOTD: Have you read any role reversal romances like this one where the heroine is the protector, not the hero? (Think: bodyguard, military, government agent)
Book Info:

Publication: July 19th 2022 | Pub: St. Martin's Press |
She's got his back.
Hannah Brooks looks more like a kindgerten teacher than somebody who could kill you with a wine bottle opener. Or a ballpoint pen. Or a dinner napkin. But the truth is, she's an Executive Protection Agent (aka "bodyguard"), and she just got hired to protect superstar actor Jack Stapleton from his middle-aged, corgi-breeding stalker.
He's got her heart.
Jack Stapleton's a household name—captured by paparazzi on beaches the world over, famous for, among other things, rising out of the waves in all manner of clingy board shorts and glistening like a Roman deity. But a few years back, in the wake of a family tragedy, he dropped from the public eye and went off the grid.
They've got a secret.
When Jack's mom gets sick, he comes home to the family's Texas ranch to help out. Only one catch: He doesn't want his family to know about his stalker. Or the bodyguard thing. And so Hannah—against her will and her better judgment—finds herself pretending to be Jack's girlfriend as a cover. Even though her ex, like a jerk, says no one will believe it.
What could possibly go wrong???
Hannah hardly believes it, herself. But the more time she spends with Jack, the more real it all starts to seem. And there lies the heartbreak. Because it's easy for Hannah to protect Jack. But protecting her own, long-neglected heart? That's the hardest thing she's ever done.