A Merciful Fate by Kendra Elliot   is the fifth book in her Mercy Kilpatrick series. This author's vastly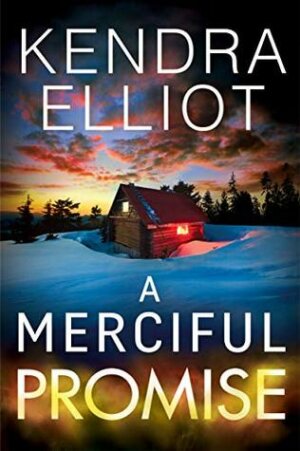 creative mind takes the readers through many twists, turns and surprising revelations in this book. The plot is spot on and the story flows with continuous fast-paced action.
FBI Agent Mercy Kilpatrick is back and this time she faces many dangers as she investigates a decades old armored car robbery that stunned the entire country. Skeletal remains of one of the four armored car robbers who got away are found in a derelict cabin in the woods not far from Eagle's Nest, Mercy's hometown. The ringleader of the robbery was shot during the heist and is in jail doing a life sentence and has consistently stymied police when asked for information. The two million in cash the robbers got away with was never found. The FBI did an exhaustive investigation after the robbery and also followed-up new leads over the years with no success. The investigation is reopened after the discovery of the skeletal remains verify that this was one of the robbers. Mercy is designated the lead investigator. But someone doesn't want the investigation to go forward. There are threats, vandalism and shootings. Mercy Kilpatrick won't let any of these things stop her. With her fiance Eagle's Nest Chief of Police Truman Daley and other FBI agents from her office Mercy follows the clues to a surprising conclusion of the case.
The main characters, Mercy and Truman are both strong, compassionate and dedicated. The reader was introduced to many of the secondary characters in previous books in the series as was eighteen-year-old Ollie, Truman's ward. Kendra Elliot highlights Ollie in this story and I really liked how she handled the trials and tribulations of this character. This is a standalone book but I think the reader would enjoy the story even more by going back and reading the earlier books in the series.
Book Info:

Publication: January 15th 2019 | Montlake Romance | Mercy Kilpatrick #5
In the next book in the Wall Street Journal bestselling Mercy Kilpatrick series, there are no such things as little secrets…
Raised by preppers, survivalist and FBI agent Mercy Kilpatrick has a deep-rooted need for a safe place. Her getaway in the Cascade Foothills is her secret. But when skeletal remains are unearthed—those of a murdered man linked to a notorious heist—Mercy realizes she isn't the only one with something to hide.
Thirty years ago, an armored-car robbery turned deadly. The mastermind was captured. Four conspirators vanished with a fortune. One of them, it appears, never made it out of the woods alive. For Mercy and her fiancé, Police Chief Truman Daly, their investigation opens old wounds in Eagle's Nest that cut deeper than they imagined. Especially when a reckless tabloid reporter draws fresh blood. It's clear to Mercy that somebody in this close-knit community is not who they seem to be.
Some are still shattered by the heist. Some still have reason to be afraid. But which one will kill again and again to hide three decades of secrets? To land this case, it's up to Mercy to unmask a familiar stranger before someone else dies.