Fighting For Her by Cynthia Eden: When it's believed the FBI is compromised, Wilde Securities is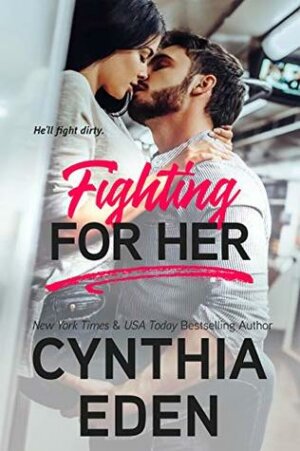 brought in to keep Kathleen O'Shaughnessy safe. The daughter of a deceased mob boss, she holds secrets that can bring a lot of people down. And she wants to. Only someone wants her silenced. Rick Williams is assigned to be her body guard. He only has to keep her alive for seven days until she makes it safely into the courthouse. But when someone keeps finding them, the pair find themselves on the run with few people they can trust. As they learn to trust one another, feelings start to develop, but what will happen when Rick's job is over?
I enjoyed the non-stop suspense and the interesting twist with Ghost, an assassin believed to be after Kat. I had mixed feelings about Kat though. She liked to play mind games with people to manipulate them and try to get her way, which doesn't work with Rick. She also keeps feeling like going off on her own is the best thing to do so she can save Rick. But Rick was supposed to be keeping her safe. That was his job and he knew how to do it, so I couldn't understand why she kept trying to protect him instead. Those weren't her brightest moments.
Rick, too, had moments that left me scratching my head. He makes assumptions about Kat based on what he read in the papers. Even when she explains that not everything he read was true, he still acts as if it was and then ends up saying things that hurt Kat's feelings. He also can't understand what someone who is as beautiful as Kate could see in him, so he has a bit of an issue with his own image. Despite this, I liked him. He's protective and good at his job.
The romance felt a bit rushed, but then they only had seven days together and most of that is spent on the run. The action and suspense more than made up for that, though.
This is the fifth book in the series, but it can be read as a standalone. There's a hint of a new team member joining Wilde Securities, and I can't wait to see what happens with that.
Fighting For Her is an action-packed book that will draw readers in and have them waiting to see how everything will play out. Filled with twist and turns, readers of romantic suspense are in for a treat with this one.

Book Info:

Publication: August 27, 2019 | Hocus Pocus Publishing, Inc | Wilde Ways #5
Rick Williams is big, bad, and not someone you want to have as an enemy. As an agent with Wilde Securities, his job is to kick butt and take names. Protecting and defending—that's part of his package deal, but his cases don't usually involve him protecting someone like her.
Kathleen O'Shaughnessy is the daughter of an infamous mob boss. Her father made sure that she was locked away from the world so Kat didn't exactly have easy street growing up. Now that her father is dead, she's suddenly out on her own—and she's the target of every enemy that her father made in his very long career.
The government wants to use Kat as a witness to take down what's left of her father's organization. To do that, though, Kat has to stay alive. She's not big into the whole witness protection scene. Boring guys in cheap suits aren't her thing. Kat needs protection that's a bit…Wilder. Good thing Rick is up for the challenge. One look at Kat, and her protection—and her pleasure—are at the top of his to-do list.
There are seven days until the trial. Seven days in which Rick has to keep Kat at his side day and night. It should be an easy enough task…but when the bullets start flying and they have to go on the run, Rick finds out that the protected "princess" isn't who he thought. Kat is about to wreck his world, and it's gonna be one heck of a wild battle.
He'll fight hard and he'll fight dirty to keep her alive. And he'll also fight with every bit of his strength to win Kat's heart. The beast is falling hard and fast…and his princess holds his battered heart in the palm of her hand