A Merciful Promise by Kendra Elliot is the sixth book in her Mercy Kilpatrick series. Alas it is the last book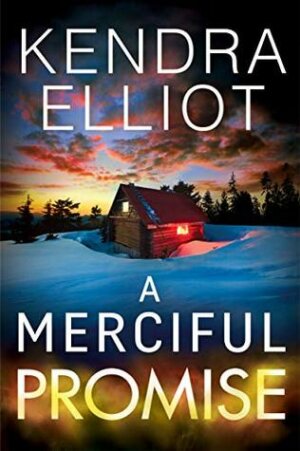 in the series. Mercy comes from a "prepper" family and has a unique background and strength of character.
FBI Special Agent Mercy Kilpatrick has found herself in some tight spots in the past but this time her situation is defintely deadly. It all started when she was called into the office of her boss and was introduced to two ATF agents. They were desperate for help. When they told her the job was going undercover into a secluded group they thought had stolen a lot of guns from an ATF facility she said, "NO" loud and clear. She nearly died the last time she dealt with a militia group. Of course, Mercy is talked into it! This was a very tough situation – no contact with the outside world except the agent already in-place had a hidden satellite phone.
Mercy is pretending to be the agent-in-place's girlfriend, a nurse who will be beneficial to the community, submissive and ready to dedicate herself to the cause. Mercy Kilpatrick submissive? No way! That's not Mercy and she manages to "rock the boat" her first day in the compound. Not good! She is being watched closely now. How is she going to discover the "Big Plan" this group, America's Preserve has hatched?
I have totally enjoyed this series and this last book continues the suspense and twists and turns perpetrated throughout the entire series. This story is full of action and emotional moments too. Mercy's fiance Eagle's Nest Police Chief Truman Daly plays a major role in this book. His love for Mercy is strong throughout. They make the perfect couple and I am very glad they get their HEA. I highly recommend this book!

Book Info:

Publication: June 18th 2019 | Montlake Romance | Mercy Kilpatrick #6
The Wall Street Journal bestselling series continues as Mercy Kilpatrick becomes embedded in the nightmare of a terrorist conspiracy.
The job: infiltrate a militia amassing illegal firearms in an isolated forest community. FBI agent Mercy Kilpatrick is the ideal candidate. She knows Oregon. She's near the compound. And having been raised among survivalists, Mercy understands the mind-set of fanatics. Lay low, follow rules, do nothing to sound an alarm, and relinquish all contact with the outside world. She's ready to blend in.
As Mercy disappears into the winter hills, something just as foreboding emerges. Mercy's fiancé, Eagle's Nest police chief Truman Daly, is faced with a puzzling series of murders—three men dumped in random locations after execution-style shootings.
Now, for Mercy, trapped in a culture where suspicion is second nature, and betrayal is punishable to the extreme, there is no way out. No way to call for help. And as plans for a catastrophic terrorist event escalate, there may be no way to stop them. Even if Mercy dies trying.