A Merry Little Meet Cute by Julie Murphy & Sierra Simone: Bee Hobbs or as she is more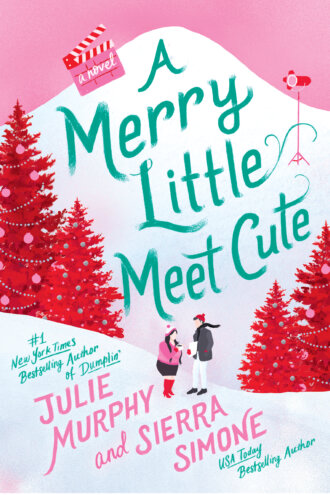 commonly know Bianca Von Honey is killing it in the plus size adult film industry, but what Bee really wants is to make it big in Hollywood…with her clothes on… so when one of her favourite directors casts her as the lead in a new clean Christmas movie for the Hope Channel, Bee hopes this could be her big break. All she has to do is keep her other more saucy roles under wraps. Well this would be a lot easier if only her co-star wasn't her teenage crush boy-band star Nolan Shaw.
Nolan really needs this job to work out, not only does he need the money but he is in desperate need to rehab his image! But after learning that his new co-star is non other than his favourite ClosedDoor star Bianca Von Honey, his promise to his stickler manager to keep things clean and well behaved is going to prove to be a lot harder than Nolan had envisioned. With both Nolan and Bee's careers on the line and a nosey reporter on the loose can these two find away to keep their off camera romance under wraps?
Before I go any further I have to take a moment to mention this super cute cover! I just loved this cover and how accurate it was to the entire story. Okay now I think it is safe to say that I love a cute Christmas romcom and this was just that with a really nice saucy twist! I just loved the fact that the lead female character was a plus size lady that totally rocked her curves! This book screams body positivity and girl power, and I was so here for it!
Bee was such an amazing leading lady, she really embodied body positivity. I loved that she loved her body and was proud to flaunt her curves. Even though she was so comfortable in her own skin I liked that we got to see that she still had some insecurities and this made her character all the more relatable. I loved the relationship that she shared with her mothers. Also I really liked the positive spin on the adult film industry. I like that we got to see the relationship that Bee had with her colleagues and that they really formed a make shift family.
As for our hero, well I think most girl do love themselves a cute boy-band member with a comeback story and this was our boy Nolan to a tee. I really liked this guy and that he was so determined to be better and that he always had his families best interests at heart. I really enjoyed getting to see his character grow as the book progressed.
The chemistry between these two was fire hot! I loved that they had both harboured this crush on each other all this time and that this only made their attraction stronger. I will say that I did think that this would be a tiny bit steamer seeing as our leading lady was in the adult entertainment industry but for the most part this was a closed door read. This however did not effect the overall feel to this book.
A Merry Little Meet Cute is a must read, this body positive, inclusive, all round positive read makes for the perfect fast cute Chirstmassy read!
Book Info:

Publication: September 20th 2022 | Avon |
Bee Hobbes (aka Bianca Von Honey) has a successful career as a plus-size adult film star. With a huge following and two supportive moms, Bee couldn't ask for more. But when Bee's favorite producer casts her to star in a Christmas movie he's making for the squeaky-clean Hope Channel, Bee's career is about to take a more family-friendly direction.
Forced to keep her work as Bianca under wraps, Bee quickly learns this is a task a lot easier said than done. Though it all becomes worthwhile when she discovers her co-star is none other than childhood crush Nolan Shaw, an ex-boy band member in desperate need of career rehab. Nolan's promised his bulldog manager to keep it zipped up on set, and he will if it means he'll be able to provide a more stable living situation for his sister and mom.
But things heat up quickly in Christmas Notch, Vermont, when Nolan recognizes his new co-star from her ClosedDoors account (oh yeah, he's a member). Now Bee and Nolan are sneaking off for quickies on set, keeping their new relationship a secret from the Hope Channel's execs. Things only get trickier when the reporter who torpedoed Nolan's singing career comes snooping around—and takes an instant interest in mysterious newcomer Bee.
And if Bee and Nolan can't keep their off-camera romance behind the scenes, then this merry little meet cute might end up on the cutting room floor