In A Millionaire at Midnight (Bachelor Auction #4) by Naima Simone, Morgan Lett should have known better when she began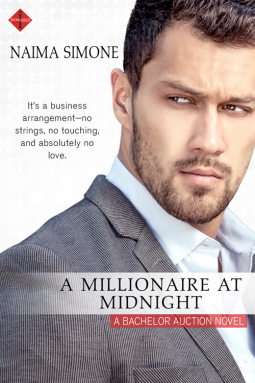 bidding on one of the bachelors up for auction at a Charity event she was attending. But it's the only way she can prove to everyone that she's over the fact her ex left her for her stepsister. However, when it turns out the bachelor she won is a judgmental jerk and her soon-to-be boss, Morgan does her best to shrug off her latest drama. Except when one of the things that matters most to her is under the threat of closure, Morgan believes drastic times call for drastic measures. Will Millionaire Alexander Bishop accept her proposal to be his fake fiancée, especially when he's in need of one to inherit his family's business?
"And in exchange for playing the role of my fiancée, you want that amount."
She nodded. "To buy the building for the Phoenix House. If you'll give me enough money to outbid anyone else interested in it, I'll be your fake bride-to-be."
He cocked his head. "And how do you know I haven't already found someone? If you heard my conversation with Kim, then you also know I had selected a person."
I have immensely enjoyed every single book of this series so far, and this one was no different. Right from the start, Ms. Simone penned a highly entertaining, fast-paced story I could not put down due to the heroine's dilemma. A lot of people think she's still reeling from the loss of her ex to her step-sister, yet it's palpable she's ready to prove everyone wrong. How much is she willing to pay to get her man? Will she do anything to set tongues wagging to prove she is over what her ex did to her?
The dialogue was intense due to the way this couple meet, which makes the hero think the worst of the heroine. No way is she a woman that goes after a man just for his money, but rather goes after things that are important to her. Morgan provides quite a challenge to Alexander, and isn't afraid to say whatever is on her mind. However, the dialogue wasn't all intense and there was some banter between the main characters that was actually quite amusing. Such as when the heroine gives the hero a tongue lashing on his behavior towards her; when they're discussing whether he's going to fire her from her job; or when they make a bet and if Morgan loses she has to accompany the hero to see something she doesn't want to see.
"Hmm." A corner of her mouth curled, and her blue eyes gleamed. "I sense a wager coming on. How about a bet to see who sorts the most clothes? If I win you have to…" She squinted at him, then broke out in a grin that would've struck fear in the most stalwart people. "Print out the damn schedule and burn it in your backyard."
He swallowed a bark of laughter. "And if I win?" he countered.
"An hour of silence?" she suggested.
Both the main characters had me completely hooked with their back stories and their playful dialogue. The hero has worked hard for his family's company and deserves the chance to be CEO. He's confident, cocky, and is very loyal to those that are worthy of his loyalty like his half-sister; a half-sister that his father barely acknowledges. Being with Morgan is unlike anything he's experienced before, and the more time he spends with her, the more he comes to realize that she's nothing like his ex. Indeed, she's the complete opposite and not out to use him for what he can provide her with.
While Morgan, she's strong and brave by showing everyone that she's moved on from what her ex and step-sister did and that she's willing to fight for something that's important to her. She's also confident in the way she deals with the hero and isn't afraid to stand up for herself, if she thinks he's being an insufferable jerk. But what I liked most about Morgan was how kind and caring she was, which is proven by what she does for the hero's half-sister. Just because her father has a problem acknowledging her presence in Alexander's life doesn't mean Morgan has to do the same. Besides, throughout this story, the heroine and the hero's half-sister develop quite the friendship and become as close as sisters.
He frowned as if irritated that she'd been an emotional pest. "I was good at being alone, in the dark. Cold. Damn it, I was okay. I was fine."
"In the dark? Cold? He's a freaking millionaire. He can't afford to pay his electric bills?" Merri whispered in Morgan's ear.
Overall, Ms. Simone has penned another fantastic read for her Bachelor Auction series where the sex scenes were hot and illustrated how much the hero needs Morgan in his life. Enough to make him realize that just because his first time around when it came to a long term relationship didn't end well for him, doesn't mean that being with Morgan is going to end the same way. The way this story ended had me cheering for the hero by what he did to win Morgan back. Who doesn't enjoy a hero that stands up for his woman or a sister that speaks her mind at the most inopportune of times? I would highly recommend A Millionaire at Midnight, especially if you enjoy the fake relationship trope.

Book Info:

Publication: February 13th, 2017 | Entangled: Indulgence | Bachelor Auction #4
Boston socialite Morgan Lett is having a run of bad luck. Her fiancé just dumped her for her stepsister, the charity foundation she's given her life to is in danger of folding, and now, the gorgeous man she bid on and won at a masquerade bachelor auction turns out to be a cold-hearted jerk…and her new employer.
Millionaire Alexander Bishop needs the best wife money can buy. In order to inherit his family business, he must get engaged—fast. And Morgan, with her beauty and pedigree, is the perfect candidate. Her sharp tongue may drive him crazy, but she needs money to save the foundation she loves, and he needs a fiancée. It's a flawless arrangement—no strings, no love. But soon she has him craving more, and cursing the platonic terms of their agreement.
Still, he won't allow need—no matter how hot it burns—to threaten everything he's built.