Royal Disaster by Parker Swift: Now that Dylan has brought their relationship public, Lydia's life is a whirlwind. Pictures and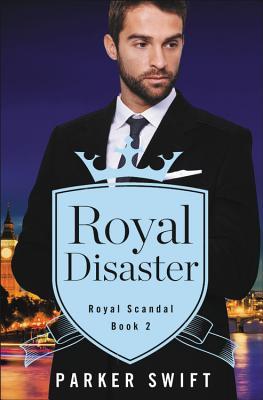 derogatory comments in the paper, meetings with the queen and other royalty, and newfound business success that isn't just because of her skills have taken over.
But as long as Lydia has Dylan, she knows she can power through and get used to the role. Except, trouble is brewing and Lydia's most intimate moments with Dylan are somehow being taped and used against her and Dylan. With the need to protect Lydia from all trouble, though, Dylan is leaving Lydia in the dark.
And to make matters worse, Dylan's future as duke is coming closer and closer as his father involves him more and more in the family company. Neither Lydia nor Dylan know whether being a future duchess is the right option for Lydia.
"Thank you," he whispered as we settled back to sleep. "Thank you for making me laugh. Thank you for letting me…" He didn't finish the though. He didn't need to.
Perhaps if this novel focused more on the romance and intrigue I would have enjoyed it more. Mostly, though, it just felt like sex and insecurity. Not even fun or deeply emotional sex at that, mostly just repetitive by this point. I really did enjoy the first story in the series, but as I've been told by others in regards to series continuations of one couple's story: the most important part is the first book where they fall in love. After that, it's unnecessary. And I just felt that in Royal Disaster.
I don't need to watch Lydia and Dylan meet new drama – particularly when the drama is kind of overdone and a little too theatrical and cliché. The parentage issues, Russians, absurd wealth, it just becomes too much and it ends up overpowering the couple.
For those who want to see the continuation of Lydia and Dylan I recommend Royal Disaster—definitely note that it is not a standalone. Although the romance and falling in love part is done, the story is wholly centered on them and what they're going through.

Book Info:

Publication: April 2, 2017 | Forever Yours | Royal Scandal #2
Dylan and Lydia's story continues! "Emotional, intense and beyond sexy. Dylan Hale will light your panties on fire, not that you'll be allowed to wear them anyway." – New York Times bestselling author Helena Hunting
"He's not who you think he is . . . "
Meeting Dylan Hale has turned my life upside down. I'm dating an actual duke who's devastatingly handsome and deliciously naughty. On the surface, I'm living the high life. But this surreal world of royalty and paparazzi is getting out of control.
Someone knows way too much about Dylan and me-about the moments when we're alone, about how his hands leave a trail of fire over my skin . . . about the complete control he has over me between the sheets. And worse, it's starting to become clear that Dylan's keeping secrets from me, too . . .