In A Mommy for his Daughter by Amy Ruttan, Evelyn 'Evie Saunders once called Wolf's Harbor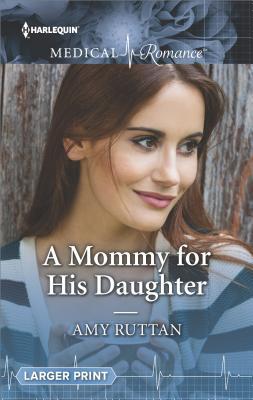 home until her world shattered when she lost someone she loved and was sent away. However, now she's back in town for three months working as a doctor in hopes of finally getting the closure she needs from her past. Yet, the more closely she works with Dr. Derek Taylor, the harder Evie finds it is to keep her distance. Will Derek be able to convince Evie to stay, or will she walk away from her chance at happy ever after because of her past demons?
"If you truly cared about your patients then you wouldn't object to me being here. I'm here to stay."
His eyes widened. He was surprised. "Stay? As in permanently?"
She blushed. "Well…no." Of course not. He knew better than to get his hopes up. "I'm just as capable as Dr. Merritt," she said, breaking the tension.
"Are you?" he asked, raising an eyebrow. "I at least know Dr. Merritt. I know nothing about you. Not even your first name."
What an absolutely riveting and remarkable read Ms. Ruttan has delivered in this book where emotions run high; the main characters are incredible with their heartbreaking back stories and everything they face on their journey to happy ever after; and the dialogue was an enjoyable combination of intense moments due to the medical emergencies these two handle that bring back painful memories for the hero and wonderful banter that had me enjoying how the heroine won over the hero's daughter immediately and how Derek and Evie don't get off to the best of starts but find themselves becoming closer with every interaction.
Derek cocked an eyebrow. "What're you going to do to him?"
"What do you mean?" she asked, confused.
"You sound like some kind of cowboy character, out for revenge. Are you going to deck him or something?" he teased.
"Tempting, but, no. I am going to question his medical integrity."
"That's the same as shouting Draw! in the Old West."
With the main characters, the heroine was resilient and courageous in facing her past. Will coming to Wolf's Harbor help her to heal from the hurts of her past? Will she be able to make things right and get the closure she needs? I also liked how hard-working the heroine is and that she's not afraid to say what's on her mind when it comes to doctors that don't do all they can for their patients, which is proven in the moment where she comes face-to-face with the man she replaced as locum at Wolf's Harbor. While the hero, he's been through a lot since losing his wife and I loved the tight bond he shared with his daughter, because it's only been the two of them for quite a while. I also liked how passionate he was about Wolf's Harbor and how being the town doctor is more than just a career to him. Yet, what I liked most of all about the hero was that he let the heroine in, even knowing she wasn't going to stay. And really, Evie is good for Derek just as much as he's good for her.
Overall, Ms. Ruttan pens a very engaging read in this book, which entertained me from start to finish, especially because of the powerful chemistry between Derek and Evie; the secondary characters that are finally glad Evie has come home; and the ending had me loving the decision the heroine made because she no longer wants to be alone. However, it was the epilogue that wrapped this story up nicely because the heroine is no longer alone and has found the love, family and happiness that she deserves and the hero is finally getting what he wants for Wolf's Harbor. I would recommend A Mommy for his Daughter by Amy Ruttan, if you enjoy medical romances, the opposites attract trope, the enemy to lovers trope, or books by authors Lucy Clark, Annie O'Neill, Jennifer Taylor and Tina Beckett.

Book Info:

Publication: April 1st, 2018 | Harlequin Medical |
She's never had a chance at a family…But could happiness be found where she least expected?
Dr. Evelyn Saunders left her orphan past behind, along with the cold Alaskan climes of Wolf's Harbor. But an unexpected posting back home brings her up close and personal with single dad GP Derek Taylor. Neither are looking for love, but could this doting dad and his little girl bring Evelyn the happy family she's longed for?