In Covert Game (GhostWalkers #14) by Christine Feehan, Every time Dr. Whitney sends Zara Hightower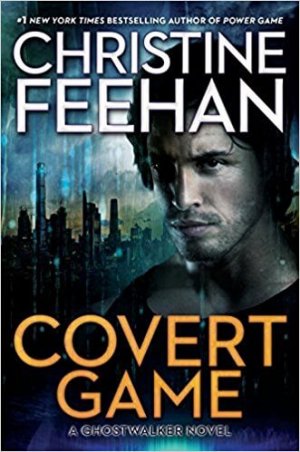 on a mission she knows there's a chance she won't be returning from it. But that's her job, having been raised as a GhostWalker, being sent to spy on Whitney's enemies and gather intel. Her brilliant mind and psychic abilities makes her a very strong asset for the demented doctor. So much so that when Zara falls into the hands of an evil crime lord in Japan, Whitney actually sends a group of GhostWalkers to rescue her. Unfortunately they didn't rescue her before she spent days at the brutal hands of an enemy and she'll spend weeks if not months recovering physically and mentally from it. But in Zara's corner is fiercely protective and devastatingly handsome Gino Mazza. The GhostWalker that makes people very, very afraid. Although he's been nothing but sweet and kind to her. With all of the self-doubts that have always plagued Zara playing in her mind, she'll have to figure out if she's really falling for Gino or if it's just a connection she feels for her rescuer.
"Did I remember to tell you that I'm crazy in love with you, woman?… Because I am. So in love. I didn't know it was possible to love this much."
He wasn't a man to say such things, and it meant all the more to her that he did. He kissed her again, stealing her breath.
When Gino does some digging into the background of gorgeous scientist Zara as he gets ready for her rescue mission, he is instantly hooked. But he is also tasked with the decision to either rescue or kill Zara–depending upon if she is truly being held captive or if she's setting them up. It's evident when Gino sees her beaten and tortured body that she's being held against her will. And he and his team will risk life and limb to get her free. But that's just the beginning for them all. From there he falls head over feet for the brilliant woman, feeling a connection the likes of which he's never known before. He treasures their time together but knows the day will come when he'll have to fight Dr. Whitney as well as her former captor Bolan Zhu. Gino has no worries he and his GhostWalker brothers will come out the victors. It's what they've been trained to do. Knowing what Zara suffered brings out the stone-cold killer in Gino. Hopefully she'll still be able to accept him,though, when the darkness inside him comes out and exacts revenge.
"I don't deserve you." That was the strict truth, but he was keeping her. He needed her. He had been so close to losing his way. Somehow, she pulled him back from the edge.
"Probably not." There was a touch of humor. "But you're not getting rid of me."
High octane action met sweet and sultry romance in Covert Game, Christine Feehan's newest addition to her popular GhostWalkers series. Between the intrigue, double-dealings, and unique love match, this was one book that was everything the author promised her fans it would be.
'He looked like sin incarnate. If he was the devil, and she knew he wasn't from heaven, she wanted to burn in hell with him.'
Possible trigger warning: Graphic torture scenes, rape (not the main characters and no graphic details given), murder.
Christine Feehan is known for her grumbly kickass heroes who are all alpha and her sometimes sassy, sometimes sweet heroines. I have to say that Gino and Zara took that premise to a whole 'nother level in Covert Game. There were actually so many different layers to this lovely couple–and to the story itself–that it's difficult to explain. One word that describes the whole thing? Intense! Right from the start Feehan had our hero and heroine facing extreme challenges on their own and then together, once they combined forces. I love how this author makes each couple so different from those before. Feehan really knows how to use the individual personalities and explore what makes them work together as well as what creates that wonderful tension.
To me, Zara and Gino were a throwback to the first few books in this series with the way they connected and just the feel of their relationship/courtship. I think some readers may look at Zara at first like she's too self-doubting. But I thought it was an honest look at how she felt, being a naturally introverted, submissive, people-pleasing woman and having been put down her entire life by Whitney. My heart broke for what Zara went through at the hands of Bolan Zhu. (And those scenes will be brutal to get through for most readers.) But it was obvious to me how brave she truly was. She never gave up or gave in to the torture and held onto the secrets she was hiding. And with the help of Gino and Nonny–boy I love her!–Zara was able to begin believing in her own self-worth and recognized her strengths instead of constantly hearing Whitney's putdowns in her head.
The glimpses we've had of Gino in previous books intrigued me and I wanted to know if he really was as cold and dangerous as he seemed. In some ways, yes, he was a cold-blooded killer who could do whatever it took to get the job done. But Gino was also trustworthy and devoted to taking care of those close to him. That certainly included Zara. I adored how protective he was of her from the start. And that he knew she was The One. Their relationship was somewhat similar to Cayenne and Trap's in that Gino was fairly dominant and needed a woman who could stand on her own when need be, but was still fairly submissive. I know it's not the relationship everyone favors. But it worked *so* well for Zara and Gino. They matched up perfectly, her being the comforting, shining light in the duo and Gino the steady yet darker-edged one who could ensure their safety. I just loved watching them grow into their roles as a couple and can't wait to get updates on their future in upcoming books.
I can't seem to get enough of Christine Feehan's inventive and thoroughly engaging novels, and the GhostWalker world is one I love to explore. Exciting and intense. Sexy and satisfying. I hope fans will embrace Gino and Zara's story and enjoy it as much as I did.
Book Info:

Publication: Published March 20th 2018 | Berkley | GhostWalkers #14
Treason, torture and temptation haunt the GhostWalkers in their most dangerous adventure yet, as Christine Feehan's #1 New York Times bestselling series hits an explosive new high.
Rescuing an industrial spy from the hands of a criminal mastermind is a suicide mission for the GhostWalkers. And there's no one more up to the task than Gino Mazza. He's the perfect killing machine–a man driven by demons so dark and destructive that his blighted soul has given up trying to find solace. But his laser-sharp focus on his target has transformed into something nearing desire.
A treasonous senator dangled top secret GhostWalker data in front of a Chinese crime lord, and he bit. Zara Hightower, one of the world's leading experts on artificial intelligence, was sent in to psychically wipe the crime lord's computer network. She succeeded, but at a huge cost. Now she's the captive of a man who has descended into paranoid madness. Torture and death await her…
But GhostWalkers never leave one of their own in enemy territory. And it's up to Gino to save Zara, or kill her if it turns out she's led them into a trap. Either way, heaven or hell won't stop him…