In A Mrs. Miracle Christmas by Debbie Macomber, Laurel McCullough and her husband Zach have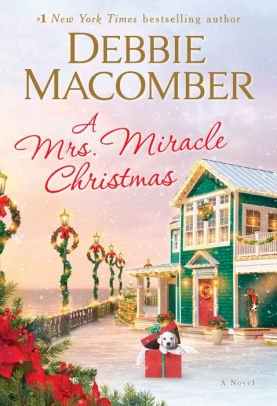 gone through some major changes in their lives in the past year or so. Unable to have a baby biologically, they have turned to fostering or adoption, only to be badly burned and heartbroken over the results. And now with Laurel's beloved grandmother, Helen, in the midst of battling dementia, she's not sure this upcoming Christmas will be as joyous an occasion as it has been in the past. But with caregiver Mrs. Miracle showing up at their door, ready to take care of Helen–and some other loose ends in Laurel and Zach's lives, unbeknownst to them–it seems like things might finally be looking up for them all, just when they need it most.
'She'd miss her home companion, who had now become more like a dear friend. She had no words to adequately thank her… God had given her a special gift in this woman.
In this *angel*.'
A heartwarming new Christmas novel to add to Debbie Macomber's already wonderful list of work, A Mrs. Miracle Christmas was a touching story with a lovely reminder of the "reason for the season" and some characters you won't soon forget.
'Mrs. Miracle, angel or not, seemed to be an answer to their prayers.'
What would a holiday season be without something new from Debbie Macomber, right? And this year it was a Mrs. Miracle story! It was fun spending time with the charming angel and seeing how she helped Laurel, Zach, and Helen find their way, restore their faith, and realize how much love they already shared as a family. Our main characters' struggles were not easy ones. Laurel and Zach's fertility issues were heartbreaking, as was watching Helen suffer through dementia and seeing how it saddened Laurel and Zach to watch her deteriorate. But as you would expect, Macomber included some heartening, poignant moments that will touch your heart and leave you hopeful for their future.
This was a story that moved along at a pretty good clip, with an ending that wrapped things up quickly but beautifully. I think readers will easily be able to empathize with Zach and Laurel, even if you've never been in their shoes, as Macomber made their struggles to conceive or even adopt a child of their own very real. It caused some definite tension between them and it felt genuine–particularly the emotions Laurel and Zach had to fight their way through as a couple and on their own. But the sweet, joyous ending they received (with an epilogue that showed them a couple of years in the future!) was very much worth it.
I did also enjoy Helen's part of the story. She spent the most time with Mrs. Miracle and the two ladies, well…lady and angel…got up to a bit of good-natured mischief as one would expect. There were a couple of scenes that brought tears to my eyes with Helen's health issues and with the feelings of loss and grief she still held onto over losing her husband. But, thankfully, she had moments of clarity as well as happiness that I think readers will enjoy immensely.
Inspiring and full of cheer and warmth, A Mrs. Miracle Christmas will grab hold of readers' hearts from the first page and not let go until the final word is read. This would make a great addition to your holiday reading list or to give as a gift.
Book Info:

Publication: Published October 1st 2019 | Ballantine Books |
Mrs. Miracle shows an ordinary family that they are blessed beyond belief in this uplifting holiday tale from #1 New York Times bestselling author Debbie Macomber.
As the holiday season begins, Laurel McCullough could use some good news. She and her husband, Zach, have been praying for a baby that seems more and more like an impossible dream, and they've had to move in with her beloved grandmother, Helen, who's having trouble taking care of herself. But when Laurel contacts a local home-care organization for help, there are no caregivers available.
Then Mrs. Miracle appears at her door. No stranger to lending a helping hand to a family in need, Mrs. Miracle reveals herself to be nothing short of a godsend. Helen's even convinced she's an angel! Still, Laurel has to admit that Helen has become noticeably happier and more engaged, decorating the family Christmas tree and setting up the nativity with Mrs. Miracle's companionship. In the meantime, Laurel and Zach begin to encounter curious signs, all pointing toward the arrival of a special baby.
With Christmas approaching, there appears to be even more to Mrs. Miracle than meets the eye. In a classic turn of Debbie Macomber's signature seasonal magic, Laurel, Zach, and Helen experience a holiday of heavenly proportions.