In A Peach of a Pair by Kim Boykin, 'Bama belle Nettie Gilbert has spent four years immersing herself in music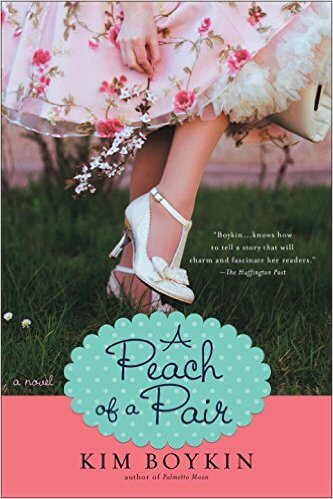 at college in South Carolina. To do so, though, she had to leave behind her family and her fiance Brooks, which is almost unheard of in 1953. She's all set to graduate when a devastating note from home includes a wedding invitation, where Nettie learns that her younger sister is getting married to Brooks, HER fiance.
Lurleen held both of my hands in hers. "Forgive her."
"I'm not sure I can." It was easy to hold on to all of the sordid details. Forgiveness was complicated. The hardest work.
"No one's asking you to agree with her, Nettie; you don't even have to like her. But you must forgive her." Lurleen smiled. "She's your sister."
Uninterested in going home for the wedding or even finishing her last semester at college, Nettie instead takes a job caring for two elderly sisters. She is referred to Miss Lurleen and Miss Emily Eldridge by their local family doctor Remmy Wilkes who takes a shine to Nettie right away. In between the dozens of chores Emily throws at her, Nettie comes to enjoy her time with ailing Lurleen. And she gets to see firsthand what damage can be done when things are left unsettled, when she and the two sisters journey to Texas in hopes that a faith healer can help Lurleen's health.
'Lurleen could see there would be no peace, because she'd be gallivanting across the country with her pouting sister, who wouldn't give a soul a moment's rest until they surrendered to her every whim.'
Poignant and touching, A Peach of a Pair was an absolutely charming novel about healing, forgiving, and loving those you hold dear.
Talk about family drama! It seems every character involved had some personal or family issue they were dealing with, which meant the story was multi-layered and, of course, richer because of it. Told from multiple POVs, this Southern tale bounced easily from one emotion to the next while pulling me into the lives of Nettie, Miss Lurleen and Miss Emily, as well as Dr. Remmy Wilkes.
Nettie's heartbreaking situation was enough on its own to make this an interesting book. But when factoring in the secrets and sorrowful past between sisters Lurleen and Emily, this became a very powerful story. I thought author Kim Boykin did a fantastic job of creating well-defined characters. I loved Nettie, with her caring ways, and Remmy who struggled to do right by his family's legacy. Lurleen I adored and felt sympathetic about her illness and her wish to remain at home. Emily, however…I just couldn't get past her selfishness and mean streak for quite a while. Almost until the very end where she showed her true love for her sister.
Although most of the issues that were dealt with in this novel were decidedly of a darker nature, there was a nice layer of humor as well. There was a lot of introspection from our characters, noticeably from Lurleen and Emily. But the lighthearted moments, and those when the characters were connecting emotionally, were some of my favorites. I thought Remmy actually played a fairly pivotal role in the storyline and loved the support he gave to Nettie, Lurleen, and Emily in his own charming way.
Who would have thought two elderly Southern spinsters and a brokenhearted college girl could teach readers such a valuable lesson in letting go of past hurts and embracing the present? A Peach of a Pair did that and so much more. Definitely a keeper!
Book Info:

 Published August 4th 2015 | by Berkley |
April, 1953. Nettie Gilbert has cherished her time studying to be a music teacher at Columbia College in South Carolina, but as graduation approaches, she can't wait to return to her family — and her childhood sweetheart, Brooks — in Alabama. But just days before her senior recital, she gets a letter from her mama telling her that Brooks is getting married . . . to her own sister.
Devastated, Nettie drops out of school and takes a job as live-in help for two old-maid sisters, Emily and Lurleen Eldridge. Emily is fiercely protective of the ailing Lurleen, but their sisterhood has weathered many storms. And as Nettie learns more about their lives on a trip to see a faith healer halfway across the country, she'll discover that love and forgiveness will one day lead her home . . .