A Real Cowboy by Sarah M Anderson is a modern day Hollywood meets the Old West story.
Thalia Thorne is a Hollywood movie producer and has been sent to Montana to bring back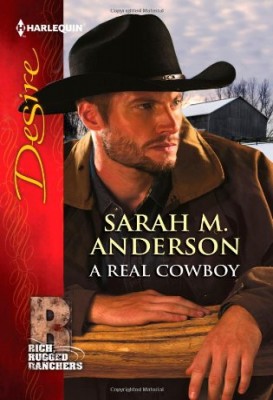 James Robert Bradley (aka J.R.), a former Oscar winning movie star. He has been out of the public eye for almost a decade at the Bar B Ranch, which he owns and operates. Thalia wishes to cast him in a new western called Blood For Roses and offer him the comeback role of a lifetime. From the first moment J.R. lays eyes on her, he immediately shuts down and will not trust or listen to anything she has to say. He knows the Hollywood type and hasn't any room in his current life for the deception and lies.
Thalia knows if she doesn't get J.R. to sign off on the role, she will be fired and blacklisted so she will never work in Hollywood again. She must make a decision how to proceed when she not only gets shut down by J.R., but also connects with his "crew" Minnie and Hoss Red Horse, who are like his family. Fate takes over as she finds herself snowed in with him when a blizzard tears through the area, and they must face their complicated feelings toward one another.
I have to say this is the first "snowed in" trope I've ever read, which is crazy considering I come from the snowy Northeast, but I really enjoyed it. It forces the characters into a dangerous situation and throws them into such close proximity that they have no choice but to deal with their relationship. I loved how Thalia and J.R. felt protective of each other where they both know the trappings of the Hollywood lifestyle. They work great as a team but also know to be wary of certain situations.
I found the author's use of sarcasm in the character's "inner monologues" was hysterical and realistic. I certainly hope her future novels continue to be as funny, charming and steamy as this one.
Rating:
Publication Date: February 5, 2013 | Series: Harlequin Desire (Book 2211)
Producer Thalia Thorne's career is on the line. She's promised to lure James Robert Bradley back to the limelight, no matter what it takes. But once in Montana, she sees that J.R. has built a new life for himself—as a real-life cowboy—and Thalia finds it hard to resist the man he's become….Then a blizzard strikes. Suddenly they're alone, with only body heat to keep them warm. When the snow melts, she'll have to choose: go back to the big city—or sacrifice everything for the man she can't let go.