Once An Heiress by Elizabeth Boyce is an interesting, fun and very knowledgeable historical romance.
Lily Bachman is every momma's worst nightmare and every bachelor's dream. She has the largest dowry the town has seen in years, which is meant to secure her a place in society and secure a marriage to a titled gentleman.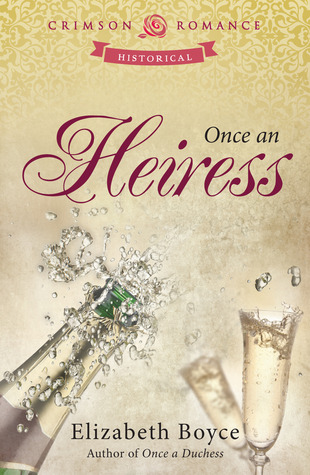 Ethan Helling, Viscount Thorburn, is the man everyone knows as a rake and gambler. He is indebted to all of London society and now with his friend's mistress tempting him, he is in need of a fortune to get her for himself.
Too bad that at their first meeting, Lily mistook Ethan for a stuck up butler.
Now as he learns about her at a ball and recognizes her, he will have to use all his charms to steal her away from all her suitors. But Lily will not be easily swayed to marry just anyone. She has been finding ways to get rid of all the "leeches" that are after her money and not after her.
Even if Lily doesn't care about what the town thinks, when an indiscreet action happens and the town's biggest gossip witnesses it, Lily will have no other choice but to marry in order to save her dream of helping the less fortunate women out there to get an education. For her Ethan was the smartest one to seduce her and make her marry him, but that will not mean he will get her fortune as easily. He will have only ten thousand pounds and the rest when Lily is truly happy and can prove it to her father.
In his quest to make his wife happy, Ethan will have to do many things he wouldn't have thought of before. And he will learn that sometimes love and honor mean more than money and appearances. But secrets kept may just make him loose what he didn't know he cherished until it was too late.
Ethan and Lily will have some lessons to learn, secrets should not be kept from those you love and trust is a key ingredient in a relationship, for without it there is no foundation to built a life on.
If you like historical romances with a strong heroine that doesn't stick to society rules and a scarred hero with a wonderful hidden heart then you will like Once an Heiress by Elizabeth Boyce.
Rating:
Book Info: Publisher: Crimson Romance (March 11, 2013)
Lily Bachman has the largest dowry the haut ton has seen in years. Her fortune is meant to secure her marriage to a titled gentleman, but instead it has sent every fortune hunter in London into a frenzy. Despite her father's insistence that she choose a husband, Lily swears she won't marry any of these "Leeches." Instead, she focuses on her dreams of opening a charity school. She has everything well in hand – until a devilishly handsome rake sweeps her into a scandalous waltz.
Ethan Helling, Viscount Thorburn, never claimed to be a good man. A well-known rogue, he's over his ears in gaming debts and is tempted by a friend's demanding mistress. To continue indulging his appetites, he needs to marry a fortune. The lovely Miss Bachman just so happens to have one, and Ethan vows to win her dowry for himself.
When the seducer becomes the seduced, Lily and Ethan are forced into a hasty marriage. Now, to gain her fortune, Ethan must find a way to make his unwilling bride happy. As he fights to win her affection, Ethan finds himself falling in love with his spirited wife – despite her determination to keep her money, and her heart, out of his hands. With her dreams in ruins and her illusions shattered, can Lily afford to gamble on love?
Sensuality Level: Sensual