In A Rogue for Emily (Lady Lancaster Garden Society #5) by Catherine Hemmerling, Emily Moss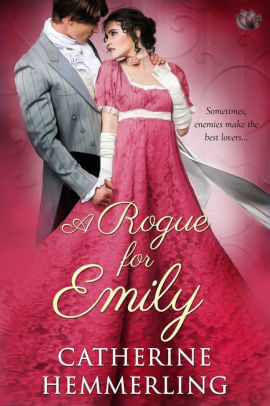 and Alexander Bredon have always been at odds ever since they met when they were younger. However, when Lady Lancaster brings the pair together for a mission, Emily has no choice but to accept that he's been assigned her partner. Yet, the more time they spend together, the more Emily begins to see Alexander in a different light. Will Emily and Alexander fight for their shot at happy ever after or will the pair walk away from each other?
"No, no, it will be fine, I will do this with you, but don't think for one second I am happy about it."
"I would have to be an idiot to think that, dear." Emily looked at him pointedly. "I am not an idiot, Emily," Alex replied. "And deep down I think you know that."
"No, I do not. But I challenge you to prove it to me. That would make for a nice change of pace."
"Argh! You make me crazy, woman."
What do you get when a Historical Romance encompasses the enemy to lovers trope; two fantastic characters that I loved from start to finish; compelling dialogue that had me loving the growing relationship between this couple, as Emily begins to see Alexander in a completely different light; and a fast-paced plot with a dose of suspense and tough obstacles for these two characters to overcome? Well, readers get an exciting and mesmerizing read that drew me in from the prologue, as Alexander is a complete jerk and it's easy to see why Emily feels the way she does about him, especially since she's suffering from her own tragedy. Will Alexander be able to win Emily over?
As for the dialogue, it was intense due to the main characters back stories, the obstacles these two face to be together including the fact that Emily may have another suitor, and the suspense that had me reading quickly determined to discover whether Emily and Alexander would get to the bottom of the investigation they'd been tasked with. Since Lady Lancaster's Garden Society are all about helping people less fortunate and making people's lives better, which is proven by all that Emily and the secondary characters do. Moreover, the heroine is independent, sassy, resilient, courageous and I liked how she begins to realize that Alexander isn't a bad as she used to think he was. Certainly, when they were younger he was arrogant and had quite terrible opinions on girls and women, but he's changed. Yet, what I liked most of all about the heroine was the close relationship she shares with her friends and the fact that she gave Alexander a chance because he's a good guy.
"No, you are right. I should be acting much more gentlemanly."
"You should?" Emily repeated, sounding marvellously disappointed.
"Yes, you are a lady, and I should be treating you as such."
"Well, yes, I suppose…"
"Recently, a friend of mine told me that a person's actions speak louder than words. It is not enough that I tell you I respect you, I must also show you."
While the hero, it's understandable why he and the heroine see each other as enemies after their initial conversation when they were younger. However, I liked that now that he's older his attitude has changed and he can no longer deny that he has feelings for Emily; feelings that he's determined to pursue. I also liked the hero's confidence, his willingness to help Emily and I liked how determined he was to win the heroine over, no matter how charming or straightforward he has to be, even if his words exasperate her. Will Emily realize that Alexander is the one she wants before it's too late?
Overall, Ms. Hemmerling has delivered a fantastic read in this book where the secondary characters entertained me just as much as the main ones because they want to see Emily happy, and it's palpable that the hero makes her happy; the chemistry between this couple was strong and convincing; the romance was well worth the wait; and the ending had me loving how the heroine's reaction to the hero surprise because he's the one for her. However, it was the epilogue that wrapped this story up nicely because Alexander and Emily are so happy, especially with what's to come and the surprise one of the secondary characters has when it comes to naming rights. I would recommend A Rogue for Emily by Catherine Hemmerling, if you enjoy Historical Romance with a dash of suspense, the enemy to lovers trope or books by authors Stacy Reid, Sara Portman, Christi Caldwell and Lily Maxton.

Book Info:

Publication: July 9th, 2018 | Entangled Publishing | Lady Lancaster Garden Society #5
Emily Moss cannot stand the roguish Alexander Bredon. As this season's most desired debut, she could have any man she wants. Unfortunately, Lady Lancaster pairs her up with none other than the incorrigible man himself.
With mutual dislike and contempt, Alex would rather be doing anything other than escorting the high and mighty Emily, until a secret about her falls into his lap. Suddenly, he realizes there may be more to the lady than he originally thought.
Perhaps the only thing that can keep them from killing each other is falling for each other instead.