In Playboy by Katy Evans, Wynn Watson knows she needs a distraction from her recent breakup with her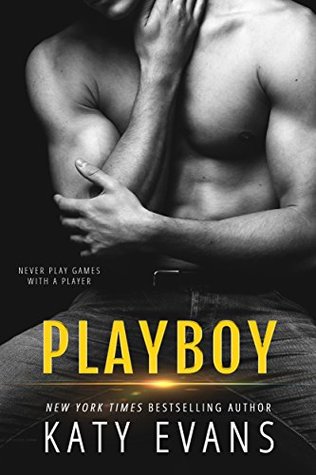 long time boyfriend Emmett. And there's no time like the present to get back into the dating world. But her date doesn't turn out anything like she had imagined it would, including being taken to an underground poker tournament. Where she meets the most beguiling, handsome man she's ever met. No, not her date, but instead, it's Cullen Carmichael. The guy they call Playboy and who is a proven gambling god. Wynn isn't sure what it is about him, but when the poker game takes a surprisingly seductive turn, she finds herself going all in.
'I'm free in his arms.
I'm a prisoner in his arms.
His body feels like an invitation to a private party, a tasty offer of sex and sin.
And I want that taste.'
Vegas has treated Cullen pretty well from what Wynn can see when he escorts her to the sinful city where she will hopefully help keep his winning streak going. The naughty bet they make only allows things to heat up even more between them. But neither Cullen nor Wynn realize just how deep they are falling for each other until it's way too late. Somehow the game is no longer about proving themselves individually, all while flirting and teasing. It soon becomes intense and serious to the point that it will have Cullen rethinking his high stakes lifestyle, and making Wynn wonder if she's finally found the guy who isn't going to let her down when it's all said and done.
'I brush her hair away from her face and know that this woman changes my game.
She. Changes. Everything.'
Completely heart-melting. Swoony. And oh-so seductive. Playboy burned up the pages and took me on an unforgettable ride with two dynamic characters I absolutely adored.
"That's what I am to you," I remind him. "We're playing a game."
"You're playing a game." He shakes his head somberly, his poker face gone, his eyes livid with heat. "I'm playing for keeps."
Katy Evans' Manwhore series has had some seriously hot heroes, starting off of course with Malcolm Saint. And with every new installment in the series, I fell for each and every new guy we've met, especially over how different they all have been. But there's something about Cullen Carmichael that was even more unique somehow. I think maybe it was that he was a gambler and had a killer poker face. So you had to get to know him and dig beneath the calm, charming exterior to see that he was a truly wonderful guy with a huge heart and lots of love to offer a lucky lady. And I have to say that Wynn was more than up to the challenge of taming Cullen. And certainly very deserving of his attention and affection. She turned out to be the breath of fresh air I thought she would be after reading previous books and seeing her feisty personality. Sassy and rather unapologetic about being in lust with Cullen, Wynn rocked his world and I loved every minute of their playful ways.
"What'd you think about it?"
"Vegas?"
"Or me."
"I could do both." I take the unspoken dare.
He freezes.
I'm a big fan of Katy Evans' writing style and how well she builds the tension between her characters. In Wynn and Cullen's case–whew!!–the scenes were steamy as all get-out and the dialogue was quite sophisticated in regard to their emotions, I thought. They started off with a scandalous bet, sort of playing mind games with each other, but not in a mean or malicious way. It was outrageous, entertaining, and full of delicious bantering that changed courses quickly from flirting to serious. And I liked that it felt like Wynn and Cullen actually wanted the same things in life when it was all boiled down: to find The One and have a family while still enjoying a wild, heated romance. But neither really knew that about each other to start. So the bets they placed along the way, as well as the build up to their first time together, really paved the way to Wynn figuring out where Cullen was coming from and vice versa.
I can't begin to express how sexy, fun, addictive–and did I mention sexy?–Playboy was. With Katy Evans' trademark epic epilogues that had me shedding happy tears, I think it's a good bet (pun intended) that readers will flip over the pairing that was Cullen and Wynn.
Book Info:

Publication: July 29th 2018 | Katy Evans | Manwhore
A brand new contemporary romance from New York Times, Wall Street Journal, and USA Today bestselling author Katy Evans.
It started as a game.
We flirted. We played. Most importantly—we won.
Then I discovered who he was: Gambler. Famous playboy. Silver-eyed player who never plays to lose.
…And my best friend's soon-to-be brother in law, Cullen Carmichael.
He needed a good luck charm, I needed a distraction.
So we made a gamble and set off for Vegas—but pretty soon—I was in too deep.
My heart, soul, and body weren't supposed to be part of the deal.
But somewhere between big wins and long nights, my house of cards started to tumble.
What was this devil with those piercing eyes doing to me?
I'd given up on love, but the wicked, all-in Cullen Carmichael was upping the ante and wouldn't stop until he'd won it all.
*This book contains characters from the Manwhore series but can be read as a complete standalone.