A Rogue of One's Own by Evie Dunmore is the second book in the A League of Extraordinary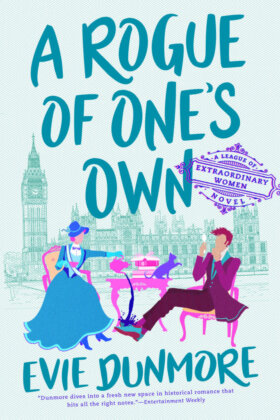 Women. While I haven't read the first book and don't think it affected this book, I'm certainly interested in reading it after this book. Evie Dunmore did a wonderful job describing the history of women's suffragists. Her research showed throughout the book and showed a glimpse of the sacrifice women in the past made for women to have the same freedoms men had.
Lucie is a strong, determined woman who was fighting for women's rights. Her current project was to amend or abolish the Married Women's Property Act which gave husbands all the legal rights over their wives, making them a possession. She committed her life to the cause and had organized a group of women to fund the purchase of half a publishing house. Their plan was to publish the results of a study they did on the real treatment of wives. Unfortunately, their plans are stopped when Lucie's greatest foe, Lord Ballentine purchases the remaining shares.
Tristan, Lord Ballentine, was trying to become financially independent from his father. His father was trying to blackmail him into getting married by threatening to place his mother in an asylum. He bought shares in the publishing house to republish his book of poetry and his war diaries. Allowing Lucie to publish her work for women's suffrage would ruin the publishing house and any chance he had of becoming financially independent and saving his mother.
Lucie and Tristan's relationship was slow-burning and their interactions were full of wit and humor. Lucie was smart, independent, and had a sharp tongue. She thought she was too demanding, direct, and impatient to be lovable by others. She was certain she didn't want a man in her life, but she discovered that the right man had never tempted her. Tristan was charming, loveable, and a rogue that had admired Lucie from the time they meet. He thought he wasn't ready for marriage, but Lucie became his calm in the storm of life. I loved all the characters and look forward to Hattie's story in the next book.
Book Info:

Publication: September 1st 2020 | Berkley | A League of Extraordinary Women #2
A lady must have money and an army of her own if she is to win a revolution – but first, she must pit her wits against the wiles of an irresistible rogue bent on wrecking her plans…and her heart.
Lady Lucie is fuming. She and her band of Oxford suffragists have finally scraped together enough capital to control one of London's major publishing houses, with one purpose: to use it in a coup against Parliament. But who could have predicted that the one person standing between her and success is her old nemesis, Lord Ballentine? Or that he would be willing to hand over the reins for an outrageous price—a night in her bed.
Lucie tempts Tristan like no other woman, burning him up with her fierceness and determination every time they clash. But as their battle of wills and words fans the flames of long-smoldering devotion, the silver-tongued seducer runs the risk of becoming caught in his own snare.
As Lucie tries to out-maneuver Tristan in the boardroom and the bedchamber, she soon discovers there's truth in what the poets say: all is fair in love and war…