Once Forbidden, Twice Tempted by Karen Booth is the first book in The Sterling Wives series.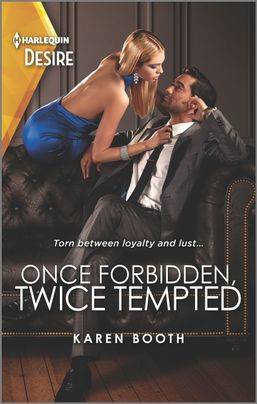 When Tara Sterling receives a call from Grant Singleton, her ex-husband's best friend and business partner, the last thing she expects to hear is that her ex, Johnathon, had died in a freak accident. Having been pushed out of their business after helping to start it up, Tara has no reason to expect any part of Sterling Enterprises to be left to her. She soon finds herself learning that she, along with Johnathon's second ex-wife and his current wife, would each receive a third of his stake in the company.
Grant had no idea that Johnathan set up his will that way. He assumed he'd automatically be made CEO, and it would be his chance to finally emerge from his friend's shadow. Now he has to convince the wives that he's the best one to lead the company, and he's going to do it by convincing Tara, who he had known the longest and always had feelings for, to get on his side.
Tara sees through Grant, but she's going to do what's best for her and the other wives, not for the man she's always been interested in. She, along with wife number two, Astrid, take jobs at the company, while wife number three, Miranda, only wants updates about what's going on there. The women decide they're going to see if it works out, and, if not, they'd sell their stakes in the company to Grant.
As they work together, Grant and Tara's long-held attraction burns brighter, but they both have different visions for the company. Soon Tara realizes that she wants to run it, too. Will they be able to put their different visions aside and realize that maybe they're better together, both in their personal lives and their business lives?
I found the story to be an interesting concept, having these three women who didn't know each other really well, having only Johnathan in common, unite together for the good of the business. I also thought it was a good introduction to all the women, not just Tara. While I didn't like how Johnathan treated the women, both when he was married to them and when he wasn't, I felt he truly cared for each of them and was trying to make up for what he had done to them.
The book also sets up some potential relationships for Astrid and Miranda, and I'm looking forward to seeing each of the women find happiness after their loss.
As for Tara and Grant, they both know what they want, and they're both determined to get it. At times their determination becomes a bit of a hinderance, and it makes them single-focused instead of realizing that the solution to everything is right in front of them. It takes them a while to get there, but it's an interesting journey along the way.
Once Forbidden, Twice Tempted is about healing, discovering one's potential, having a second chance in both business and love, and finding friendship in unexpected ways. It's an enjoyable story that will have readers looking forward to seeing what will happen next.
Book Info:

Publication: September 1, 2020 | Harlequin Desire | The Sterling Wives #1
Real estate agent Tara Sterling jumps at the chance to start fresh when she inherits part of her late ex-husband's company. But claiming her rightful place at Sterling Enterprises means working side-by-side with CEO Grant Singleton, her ex's best friend. Their long-simmering heat spells trouble as both vie for control of the business—and lose control of their thirst for each other…