A Scandal, A Secret, A Baby by Sharon Kendrick is an enchanting gem that is sure to touch your heart!
Music composer Justina Perry and business man Dante D' Arezzo ended their relationship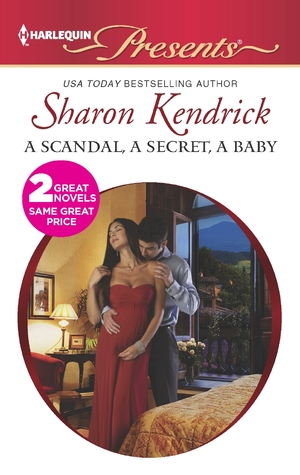 on a sour note five years ago.  When they unexpectedly run in to one another at a mutual friends wedding sparks begin to fly between the two. Unable to resist their lust for one another they end up in bed together in a one night stand.  Not long after Justina finds herself pregnant and alone.  She doesn't want Dante to know that the child that she is carrying is his, but when the tabloids run reports of her pregnancy it proves impossible to keep it hidden from him.
Dante isn't about to let Justina give birth alone and he definitely wants to be a part of his child's life. He would also like to make Justina his bride, but Justina is not able to let their tumultuous past go.  Will Dante be able to convince Justina that he is truly sorry for his past mistakes so that they will stand a chance at future together?
Ms Kendrick has penned a deeply touching and heartwarming tale. Her characters are flawed but the redemptive power of love prevails. You will find yourself cheering for Dante, Justina, and baby Nico as they work for their happily ever after. This is the perfect book to curl up with beside a warm fire.
You can look forward to an extra story in each of the March 2013 Harlequin Presents.
[divider_top]
Marriage Scandal, Showbiz Baby is a glitzy look in to what life is like both on and off the red carpet for two film stars.
Matteo and Jennifer, both film stars, have been separated from one another and are planning a divorce.  They are both shocked and dismayed to run in to one another at the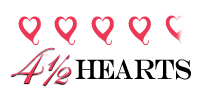 Cannes Film Festival.  In order to keep a low profile from the paparazzi they grudgingly agree to sit together and play it up as a couple.  Eager to escape the whole charade Matteo finds a side elevator for them to escape in to.  When the elevator unexpectedly breaks down with them stuck inside, things heat up between the two and they aren't able to keep their hands off of one another.
A few months later Jennifer realizes that she is pregnant.  She is unsure of what to do because she hasn't seen or spoken to Matteo since the night in the elevator.  Will Jennifer's pregnancy help bring her and Matteo back together or will it tear the two further apart?
Marriage Scandal, Showbiz Baby is the second story in Harlequin Presents, March 2013, two in one volume of A Scandal, A Secret, A Baby by Sharon Kendrick.  It is a passionate and evocative story about getting a second chance at love.  I loved this quick, fast paced read!  The chemistry between Matteo and Jennifer is smoldering.  The dialogue is witty and warm and the story is sharp and well written.
Thank you to Harlequin Presents for giving us two great stories in one!
Book Info:
Publication Date: February 19, 2013 | Series: Harlequin Presents (Book 3122)
One sinful night…
Dante D'Arezzo is the last person famous songwriter Justina Perry wants to see at her best friend's wedding. The wickedly sexy Italian is ruthless to the core. He broke her heart once; she won't surrender to his insatiable desire again. But what Dante wants…
One very big scandal!
Justina's pregnancy hits the front page and Dante knows he's the father. He'll make her pay for trying to keep his child from him. His Miss Independent is about to become completely dependent…on him!
This Italian will claim his heir and—if he wants her—a wife!
Plus a Sharon Kendrick reader-favorite: Marriage Scandal, Showbiz Baby!