A Scandal Made at Midnight by Kate Hewitt is a beautiful recreation of Cinderella with a twist. What if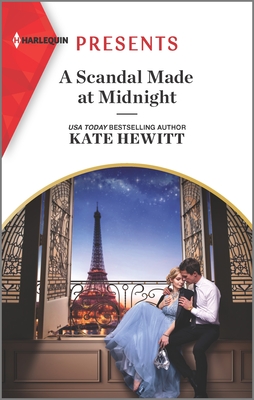 the Prince wasn't meant to choose Cinderella? What if his happy ever after lay with one of Cinderella's sisters?
Liane is the sister with her head screwed on right. She's a teacher and happy with her lot. She loves her little step-sister Ella endlessly and isn't one bit jealous that Ella is the shining light where ever she lands. It's not until Alessandro steps on Liane's feet at the ball that her curiosity is piqued. Even though Alessandro's mind is mostly stuck on solving his latest problem he's also curious about Liane. Who is this wallflower who looks out of place in her old fashioned attire?
Recruiting Ella as his social media consultant to brighten up his stuffy hotels; Ella railroads Liane into accompanying her around the world to attend the parties planned to relaunch Alessandro's hotels. During their adventures Ella spins a wonderfully creative, artful and curious tale on her social networks. In the background Alessandro and Liane grow closer and throwing caution to the wind, Liane agrees to a sizzling fling.
A delicious slow burn tale with lots of adventure and fairy tale elements. The family features heavy and I though Kate Hewitt did a fantastic job at recreating an alternate Cinderella universe. I really, really enjoyed A Scandal Made at Midnight and almost wonder if Ella should have her own happy ever after as well.
Book Info:

Publication: July 2022 | Harlequin Presents | Passionately Ever After #4
The venerable Rossi brand, now threatened with being labeled stuffy, needs an image overhaul, and new CEO Alessandro Rossi has found the perfect media influencer to court. Only it's her plain older stepsister who catches his attention!
Liane Blanchard is used to living life in the shadows, but Alessandro's heated gaze across a Parisian ballroom sets her body alight! She agrees to a sizzling fling, knowing it's all emotionally guarded Alessandro can offer. They're risking a scandal, but it's worth it for a taste of the fairy tale…
Read all the Passionately Ever After… books:
Book 1: A Baby to Tame the Wolfe by Heidi Rice
Book 2: Stolen Nights with the King by Sharon Kendrick
Book 3: The Kiss She Claimed from the Greek by Abby Green
Book 4: A Scandal Made at Midnight by Kate Hewitt
Book 5: Cinderella in the Billionaire's Castle by Clare Connelly
Book 6: The Princess He Must Marry by Jadesola James
Book 7: Undone by Her Ultra-Rich Boss by Lucy King
Book 8: Her Secret Royal Dilemma by Chantelle Shaw