You Again by Lauren Layne: It would seem that fate has a funny sense of humour especially when it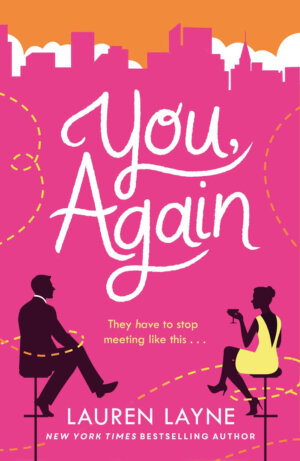 comes to Mackenzie Austin, after being stood up Mac does what any single and ready to mingle lady does swipe through her favourite dating app to find herself a new hook up, and the best thing about these apps is that the person on the other side has no idea if you reject them…right?
Well that is until Mac swipes left on a stiff looking corporate looking guy only to realise that he is sitting right next to her at the bar and that he saw her rejecting him…talk about awkward! As side from a few minutes of awkwardness surely this will be the last that Mac will ever have to see Thomas, right? Yeah, no such luck for Mac when fate throw Thomas Decker back into her life on Monday morning only this time she learns that he is her new boss… oh and if this wasn't awkward enough Mac soon finds out that Thomas is also the brother of her best friends soon the be husband… for anyone else this would sound like the makings of one heck of a meet cute story but for Mac, well she could not be more sure that this would never be the case for her free sprit self and the uptight planned Thomas… right?
YOU, AGAIN has everything that we have come to know and love when reading a Lauren Wayne book; a strong leading female, a charmingly cute hero and a delicious twist to an old favourite trope, all while keeping the New York vibe very alive and fresh. When done right the opposites attract trope is one of the most entertaining and let me just tell you Layne turns this trope on its head and delivers one of the best written books in this trope with a classic Layne twist.
I just adored Mac, she was totally herself and marched to the beat of her own drum without a care in the world. One of the things that I liked the most about her character was that she was genuinely happy with the way she was living her life and the choices that she had made, in saying this I did also really enjoy getting to see her find that she can want more than one thing and her idea of happiness can change with time. I think this is really what made her relationship with Thomas work so well, they were both looking for something without really even knowing that they were looking for it.
Thomas was just great, I loved him right from that very awkward first meeting. For all his straight laced preppy exterior he was actually a really funny and caring guy, I just loved getting to see his layers come undone as he spent more time with Mac. Good gosh did this guy make my heart swoon especially when we learn that he had been ready and waiting for Mac to come around to the idea that they were perfect for each other all along. I have to say even when things got rocky with Mac and her confused feelings our boy Thomas stood strong and gave her the space to come to her senses all while still being there for her.
I absolutely loved the chemistry and build up between these two character, the tension and connection was very apparent right from their first cringy meeting and things only grew from there. One of the things that I liked the most about this couple was that as much as they grew as individuals it was being together that gave them this push to reach for the unknown and really step out of their own planned boxes. For all their differences these two were a lot more alike than either realised and this one made their story all the more sweet to read. I just loved getting to see them at the combined bachelor/bachelorette party weekend and the ease in which they kind of coupled up as the only two singletons. Also their impromptu road trip on the way home was just a swoon fest all on its own!
YOU, AGAIN is packed with steamy banter, zingy chemistry and load of swoony moments that will have you wishing for a Thomas of your own. This opposites attracted romcom is a total must read!
Book Info:

Publication: July 19, 2022 | Pub: Lauren Layne |
They have to stop meeting like this.
After a disastrous meet-cute turns into repeated meetings, a flighty free-spirit and a stodgy rule-follower come to realize that one they can't get away from … is the one they can't live without.
• • •
Mackenzie 'Mac' Austin just wants what any modern, commitment-phobic woman in New York wants: a no-strings-attached hook-up, steamy enough to brag about over mimosas the next morning. What she doesn't want is her dating app's latest suggestion: preppy, corporate Thomas Decker. So, obviously, she rejects the guy without a second thought. There's just one snag: he's sitting next to her, so he witnessed her do it. And now he's calling her out.
After the initial embarrassment, Mac is determined not to let it bother her, but Fate has other plans – and Thomas isn't going anywhere. First, he pops up as her new boss. And then he reappears as her best friend's soon-to-be brother-in-law.
As the not-so meet cutes add up, Mac is sure that uptight Thomas is the last man that a free-spirit like her should want. Only the more time she spends with him, the more Mac realizes that the man she can't get away from has become the same one that she wants to keep close…