A Simple Wedding by Leigh Duncan : Deception at it's core is evil. There are all sorts of reasons that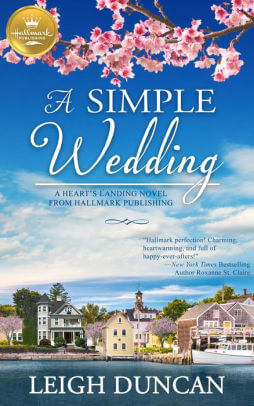 people use it, how they justify it, everything. However nothing changes the fact that deception is evil.
Jennifer Longley knew all of that, she really did, but she also knew and believed that family was/is everything. So that was why she was justifying planning an entire wedding in four weeks, in her location, going against all the lovely things she wanted for her cousin. She could do this. She just needed to get through the wedding and then maybe she could focus on herself and what she wanted?
Nick Bell had been making wedding cakes, for what seemed like forever. It was his livelihood and he loved it. He had met some special brides in his years, and some special people but so far no one had really caught his eye. Or rather no one true to themselves and to him. He didn't do lies or deceit, not for any reason, not to him or from him. So why was he so unsettled lately?
Jennifer and Nick have both come to points in their lives where things needed to change, but neither really knew how or why or when. When they meet things are complicated, but when that complication unravels into an even bigger one where will that leave this baker and fake fiancé?
This is the first work by Ms. Duncan I've ever read and the first one from Hallmark publishers. It stands very true to the Hallmark brand. You can picture the picturesque town so vividly and it's wonderful. It is truly like a hallmark fairy tale, down to ever detail she describes. The secondary characters are truly there to enhance the plot but they are vital to the story. It's wonderful that they have just enough of their own side stories to help you fall in love with the town and the story just that much more. This is a very smooth romance with virtually no heat, but if you are a fan of the Hallmark channel you are going to love this book.
Book Info:

Publication: Published April 23rd 2019 | Hallmark Publishing |
Fall in love with Heart's Landing,
a romantic wedding destination,
in the first book of a Hallmark series.
Jenny always dreamed of getting married at Heart's Landing. But when she finally visits the charming small town, she's there to make wedding arrangements for someone else: her cousin, who also happens to be her boss and a famous movie star. To keep the event secret and avoid a media circus, Jenny pretends she's the one getting married.
Nick is intrigued by this bride-to-be who starts visiting his bakery every afternoon for sweet treats and conversation. He has to keep reminding himself that she's already spoken for.
As Jenny deals with her cousin's ever-changing demands, she tries to hide her attraction to Nick. Planning this wedding couldn't be more complicated…and what will happen once the truth comes to light?