In Hot Under the Collar (The Dogmothers #1) by Roxanne St. Claire , Little did firefighter Braden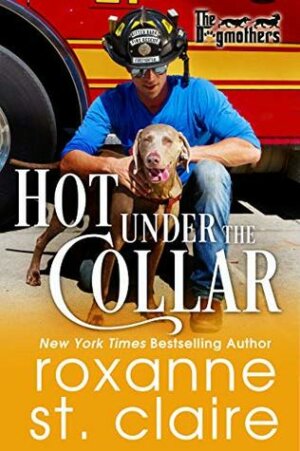 Mahoney know that when his grandmother and her new BFF paired him up with Cassie Santorini to work on a fundraising event to help get the funds to train his dog Jelly Bean that the pair of grandmas were actually matchmaking. Not that he really has anything against some quality time with beautiful event planner. Braden noticed Cassie the first day she stepped foot in Bitter Bark and he's felt the sparks of attraction between them ever since. But with his focus on getting JB trained as an arson detection dog and his complicated views on long-term romance, Braden decides a short-term fling might just work. However, the more time he spends with his Greek goddess, the more he has to admit to himself that he may have underestimated the power of their connection.
'Temporary.
Totally crappy word, but he'd take what he could get. And if that was falling asleep with Cassie in his arms, then he'd take it. *Temporary* beat *nothing*.
And nothing beat *this*.'
Cassie has come to love being in Bitter Bark as well as her mother's soon-to-be new extended family. But even as she tackles planning the upcoming Paws for a Cause events, she can't help but want…more. As in finding a huge, sprawling city and proving her mettle as an event planner to a big-name corporation. What Cassie wasn't expecting was to be pushed into Braden's orbit by her Yiayia, who is actually super nice after a lifetime of being, well, not. She knows Yiayia and Gramma Finnie are up to something and she intends to figure it out. With the help of Braden and his Weimaraner Jelly Bean–a dog who is still slowly warming up to her–they form a stellar team. The scavenger hunt to raise funds for JB's training should be no problem. It's Cassie's temporary relationship with Braden that has her all wound up and unable to decide what to do: follow her dreams–or her heart?
She could barely breathe… "I thought we…weren't…"
"What? Getting jealous of other people? Wanting more than a kiss? Feeling things for each other?"
Oh Lord. "Are you?"
"All of the above." He stopped her response with another long kiss…
A spinoff of Roxanne St. Claire's popular Dogfather series, Hot Under the Collar introduced us to a new pair of matchmakers in Bitter Bark: the Dogmothers. The wise duo of matriarchs were fun, well-meaning, if not a bit (lovingly) manipulative, and proved they had it all under control. Well, mostly…
"The Dogfather is too in love to pay attention to anyone but our sweet Katie," Finnie noted. "But we need more happy endings around here, and I can't get him to settle down and get the job done."
Agnes turned her attention from the crowd to Finnie. "If he can do it, so can we… How hard can it be to find them partners and prod them along?"
Note: Please remember that Rocki graciously donates part of the first month sales to the Alaqua Animal Refuge in Florida, a place where she also finds the canine models for her wonderful book covers. So go forth and buy this lovely book!
It was such a hoot getting to know Gramma Finnie and Yiayia, aka the Dogmothers, better in this first book of the series. They were beyond comical and just ridiculously adorable together. I have to admit, I wasn't sure how two such different personalities would get along. But get along they certainly did. I think the clash of cultures, Irish and Greek, was a perfect combination, with both of our matchmakers strong-willed but fiercely devoted to their families. And they are focused on making sure their collective grandchildren all find their perfect match. The friendship that grew between Yiayia and Finnie was touching and a riot to behold–as was the transformation that took place in the formerly, ahem, grumpy Santorini matriarch, much to the surprise of her family.
The couple the Dogmothers were betting on here was Yiayia's granddaughter Cassie Santorini, and Gramma Finnie's grandson Braden Mahoney. Their chemistry was insane but boy were Braden and Cassie stubborn. Neither really had a long-term relationship in mind, so a sexy fling is what they initially settle on. I got a kick out of Cassie being almost, sort of Yiayia's mini-me. Without being quite so gruff about things. But she was a one woman dynamo of an event planner and was uber forthright and organized. (She's my kindred spirit: I share her love of writing things down in notebooks and creating lists, too!) Cassie was torn when it came to Braden and vice versa. He was a huge, hunky firefighter with an even bigger…brain. Losing his father when he was young changed his life forever–and not only in his career choice but how he looked at relationships. Braden's reluctance to long-term relationships was quite understandable with his dangerous job. But I think readers will enjoy how falling in love took him down to his knees, as well as how it taught Cassie that if she followed her heart, her dreams would come true.
I simply must mention Braden's smart-as-a-whip dog Jelly Bean, aka JB, who was a gorgeous Weimaraner. He stole the show (literally at one point) and made life both difficult for Braden and Cassie *and* became their bone-afide (hee hee) hero towards the end. Rocki always included unique dogs in the original Dogfather series of course, but I thought Jelly Bean's involvement in this book was a touch even more special than in previous novels.
Whether you've read the Dogfather series or not, I think romance fans will be captivated by powerhouse duo Gramma Finnie and Yiayia's mission to help each of their grandchildren find their own lovematch. Filled with all the warmth, charming humor, and heart I've come to expect from Rocki's writing, Hot Under the Collar is a book not to pass up!
Book Info:

Publication: Published May 31st 2019 | South Street Publishing | The Dogmothers #1
Firefighter Braden Mahoney is devastated when his beloved Weimaraner, Jelly Bean, fails the canine arson investigator test. Faced with the challenge of raising the money for advanced training, it's Braden's sweet grandmother and her best friend who suggest he use the services of the new event planner in town. Not that he needs a push in Cassie Santorini's direction. Ever since she arrived, Braden has had his eye on the sassy Greek goddess…and can't stop thinking about getting the rest of him on her, too.
Cassie has spent years putting family first, even moving to Bitter Bark when her mother falls in love with the local veterinarian. Having a huge new extended "family" is fun, especially when one smokeshow of a firefighter attends the gatherings, but Cassie has no plans to remain in this small town. She's ready to pursue her big city dreams. But when Braden asks for an assist for his precious pup, Cassie agrees to help him set up a town-wide scavenger hunt. It isn't exactly a hardship to be around those blue eyes and brawny shoulders, especially since they both agree everything – even the undeniable sparks that crackle between them – is temporary.
But when temporary gets complicated by feelings that might lead to forever, Braden and Cassie start to question the direction they're headed. Should they follow their dreams…or their hearts? It'll take a dog with a bad nose and a good heart, two particularly meddlesome grandmas, and some help from the clan that loves them to make sure Cassie and Braden follow the clues and find their way to each other's arms.
About The Dogmothers – a brand new spinoff series by Roxanne St. Claire, author of The Dogfather Series
Daniel Kilcannon, a widower with six unmarried kids, has not only orchestrated wonderfully happy endings for all his offspring…he's found one of his own. That leaves his grown nieces and nephews plus his adult stepkids all in need of their own magical romances. Is The Dogfather too preoccupied with his new lady love to pull the strings and make the matches? Maybe. But never fear, there's a new team in town and these two might be polar opposites in life but they are lined up in love. Meet Yiayia and Gramma Finnie. One has the steel spine of a Greek warrior, the other has the sweet soul of an Irish poet. Together, along with two darling dachshunds, these Dogmothers won't stop until all nine of their grandchildren are hooked, hitched, and happy.
Just like The Dogfather, the covers of The Dogmothers were all photographed at Alaqua Animal Refuge in Florida using rescue dogs and local heroes, and a portion of the first month's sales of every book is donated to that amazing organization.