In A Soldier's Homecoming (Glacier Creek #3) by Karen Foley, India Gale is determined to keep a low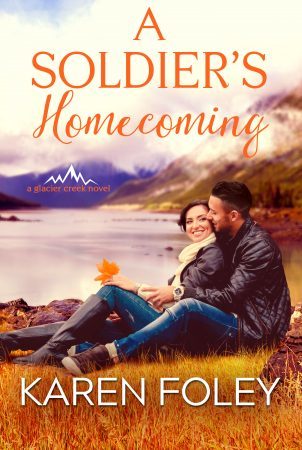 profile, especially after all she's suffered. Glacier Creek, Montana is certainly a good place to relax and keep hidden from the press that's hounded her ever since her accident, but she never imagined it would be a place where she'd fall in love. However, India knows she shouldn't get involved with anyone, especially when she's living on borrowed time. Will she take a chance on Lucas Talbot or will both their secrets destroy any chance they have at happy ever after?
"I don't know," she admitted. "I hardly know you. But if you're asking if I feel safe with you, then the answer is yes. You have nice friends, and I don't think they'd willingly hang out with you if you were an ax murderer."
"Thanks," he said drily. "If you'll let me, I'd like to take you out and show you that you can have some amazing experiences without jeopardizing your safety."
Ms. Foley has crafted a wonderful read in this book where the main characters have emotion-packed back stories; the dialogue was compelling and drew me in from the beginning, as Lucas needs to know all about India because of how her past is connected with his; and the fast-paced plot had me loving the obstacles these two face to be together including whether India and Lucas can overcome the moment their secrets are exposed. However, it was from the moment the hero and heroine come face-to-face for the first time where this story really takes off, as India is suspicious of everyone after what she's been through. Will Lucas be able to win the heroine over?
With the dialogue, it was intense due to the main characters back stories, as Lucas was lucky to have such a great stepfather in the man his mother married because his mother certainly wasn't the best of mothers. She seems selfish and bitter when it comes to everything that's happened in her life recently and expects Lucas to pick up the pieces instead of accepting decisions that have been made. Will Lucas discover the truth of what happened to India before it's too late or will the exposure of their secrets threaten their chance at happy ever after?
Moreover, the hero is confident, persistent in his pursuit of answers and I liked how determined he was to win over the heroine because he finds it hard to believe she'd do anything as dishonest as what his mother believes. I also liked the close relationship the hero has with his friends and that they would do anything for him. While the heroine, she's resilient, courageous and I liked that she took a chance on Lucas because without taking chances life would be very boring and safe for her. I also liked the close relationship she shared with her family and how they're really protective of her because of what happened. Then again, India is just as protective of her family, which is proven in the moment when she first meets Lucas.
"You asked me once if I trust you, and I want you to know that I do. If I remember anything else, I'll tell you, no matter what it is."
Reaching out, Lucas curled his fingers around hers. "Sweetheart," he said, "I just want you to get better. I know we've moved very fast, and I'm more than willing to slow things down, if that's what it takes to make you feel comfortable. We have time to do this right."
India smiled, and it transformed her face. "Yes. Finally, we have time."
Overall, Ms. Foley has delivered another fantastic read for this series where the chemistry between this couple was powerful; the romance was nicely-detailed and had me liking that India put her trust in Lucas; and the ending had me worried for one of the main characters, but had me liking that everything works out for the best for this pair. Luckily, life isn't so uncertain for India anymore. However, it was the final chapter that wrapped things up brilliantly, as India is doing wonderful things with her new endeavor and I liked that her vision was finally coming true because so many people would benefit from what she's achieved. I would recommend A Soldier's Homecoming by Karen Foley, if you enjoy the mysterious strangers trope, the enemy to lovers trope or books by authors Joan Kilby, Barbara Ankrum, Jane Porter and Sinclair Jayne.

Book Info:

Publication: June 11th, 2018 | Tule Publishing | Glacier Creek #3
India Gale had it all–a coveted job, a posh Manhattan apartment, and a privileged life. But then, a tragic accident made her lose it all. Consumed with guilt and hounded by paparazzi, she retreats to Glacier Creek, Montana to lick her wounds. She wants to keep to herself, until a stranger arrives in town–a ruggedly handsome newcomer who makes her knees tremble and resolutions crumble.
Lucas Talbot is a former Special Ops soldier who spent his childhood summers in Glacier Creek. Now, he has just one more mission to complete–discover why his stepfather was with beautiful India the night he died, and why she received a fifty million dollar settlement after the car accident that claimed his stepfather's life. He's determined to uncover all her secrets, at any cost. He isn't prepared to find a sweetly vulnerable woman who brings out his protective instincts and makes him long to claim her for his own. But will the truth he's withholding destroy his chance of true happiness and love?